Emmerdale's Michelle Hardwick reveals: 'Vanessa doesn't love her baby'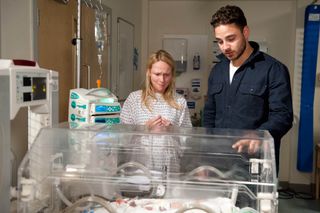 Emmerdale's Michelle Hardwick (opens in new tab) reveals to Soaplife why Vanessa is struggling to care for baby Johnny...
How is Vanessa finding motherhood?
"She feels numb. This isn't what she expected when she was pregnant. She isn't coping at all. She hasn't been able to touch Johnny and it must be awful to see your baby lying there, with all these tubes, day in, day out without being able to hold him. She doesn't love her baby and feels too ashamed to admit it."
Does she blame herself for his premature birth?
"Yes. He was born at 26 weeks and only weighed a pound and Vanessa thinks it is all her fault."
What does she make of Kirin's relationship with Belle (Eden Taylor-Draper)?
"Vanessa has been trying to carry on with her normal life while Johnny's in hospital and she's well aware of their relationship. She has seen them together and, deep down, it hurts because she still loves Kirin [Adam Fielding (opens in new tab)]."
Why is she so eager to get back to work?
"Because it's a distraction. She wants to avoid spending time at the hospital. It sounds awful, but that's her way of coping. She turns up at work and says that Adam [Adam Thomas (opens in new tab)] is with the baby at the hospital, but she's telling a few fibs."
How is she getting along with Adam?
"They've never had much of a relationship as the baby was conceived after a one-night stand [or so they both think; Kirin is actually the father]. Adam has taken to fatherhood like a duck to water and Vanessa is jealous of how he has bonded with Johnny."
Is she worried about Johnny needing surgery?
"She knows she should be worried, but whether or not she is is a different matter. She's playing the role of a caring mum, but is being very snappy with people. She doesn't really feel anything and that scares the heck out of her."
But she's offended when a nurse mistakes Victoria as Johnny's mum?
"Yes, that tips her over the edge. Victoria [Isabel Hodgins (opens in new tab)] is playing the doting step mum and Vanessa is jealous of the way she looks at Johnny."
Does Vanessa confide in anyone?
"Rhona [Zoe Henry (opens in new tab)] is the first person that Vanessa starts to open up to. She trusts her and confesses: 'I don't feel anything for Johnny'. It's a massive deal admitting that she doesn't love her baby. However, Rhona then tells Adam, who starts thinking about custody rights."
Has Vanessa got post-natal depression?
"She's showing signs of it. I did some research and spoke to a few women who had it. Vanessa hasn't been diagnosed, though, because she hasn't seen anybody. She's certainly struggling."
Emmerdale (opens in new tab), ITV
Get the latest updates, reviews and unmissable series to watch and more!
Thank you for signing up to Whattowatch. You will receive a verification email shortly.
There was a problem. Please refresh the page and try again.