Emmerdale's Michelle Hardwick: 'You dream of a white wedding, but I thought I'd never have one'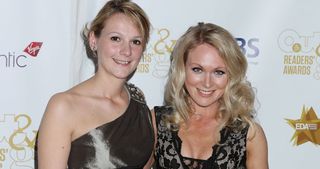 (Image credit: PA Archive/Press Association Ima)
As Emmerdale's Vanessa Woodfield stares down at three positive pregnancy tests, her heart sinks. She never wanted kids and the father could be toy boy partner Kirin or one-night stand Adam.
Actor Michelle Hardwick (opens in new tab) shares her wedding joy and worries about Emmerdale's pregnant vet Vanessa with TV Times (opens in new tab)...
You recently got married to your long-term partner Rosie Nicholl at Danby Castle in north Yorkshire. It must have been the best day of your life...
"People say that, don't they about weddings, but it really was. At three different points during the day, Rosie and I stepped aside together and looked at all the people there who we love and care about and took in those moments. It was just fantastic."
You met Rosie met four years ago while you were in panto, then got engaged on holiday in Gran Canaria on New Year's Eve in 2013. Why did you feel that was the right time to propose?
"We had come to a point in our relationship where I was quietly confident she would say 'Yes' and I wanted us to show our love and commitment to people, to say the wedding vows in front of those we love and, well, to be married. I keep saying the words 'my wife, 'my wife will be along soon', 'better get home to the wife'. I think I am getting on everybody's nerves now!"
Having hidden your sexuality until your late twenties, did you ever think you would have a wedding of your own?
"As a little girl, you sort of dream about a white wedding day, but as I got older, I came to the conclusion that I wouldn't have one. I felt for my dad really as I believed he would never walk me down the aisle, but it happened and it was amazing!"
I can honestly say that yesterday was the best day of my life... Thankyou to my wife @rosiebone pic.twitter.com/9qtiwkSgMl
— Michelle Hardwick (@ChelleHardwick) April 5, 2015
Were you nervous on the day?
"Yes, really nervous as my dad walked me down the aisle. I shot out and he pulled me back and whispered 'Slow down, take your time.'
"Afterwards, my dad told me that when he and my mum got married, she shot off really fast down the aisle and my granddad had said those same words to her. Hearing that made me quite teary."
It was obviously going to be an emotional day and we heard you asked the make-up artist not to apply waterproof mascara on purpose!
"I knew that would stop me from crying! At one point, I did get a bit wobbly saying the vows and everyone thought I was going to go, but I took a deep breath and held it together. Rosie did too – although I think I saw a little welling up in her eye!"
Rosie teaches brass instruments to primary school children and plays in a band, so was there plenty of music and dance at the wedding?
"Rosie's friend Gary had his guitar and sang Ed Sheeran's Thinking Out Loud whilst we were signing the register. We had our first dance to Etta James' At Last and, then, Rosie's friends who are in a band called The Retrosettes played. They play popular music with a Sixties twist."
Some of your Emmerdale co-stars attended the wedding, including Jeff Hordley and wife Zoe Henry. Did they get involved?
"Yes. Jeff had a little word with my dad before he gave his speech. I was so proud of my dad as he had not written anything down, but he didn't stumble once and everything he said came from the heart.
"Zoe came into my room and helped me get into my dress. She's really good at stuff like that which is fortunate as I was in a panic about how I would get the dress on as it was so big and corseted at the back."
Where did you and Rosie go after the wedding?
"We spent the rest of Easter Weekend at a country retreat with our dog Harley, a cockapoo (Cocker Spaniel and Poodle cross). We were sitting there in the sunshine with a glass of champagne reading through all the messages of congratulation people had posted on Twitter. Oh my goodness there were so many and we were really touched."
When you returned to work after the wedding you must have gone from elation to misery having to act out the Vanessa storyline?
"I had to embrace Vanessa's misery. There is a fair bit of a journey to come for Vanessa and I am really enjoying it. However, I had to switch off from all the joy of my wedding day and get into her mindset.
"She has always talked about not wanting children and for her to get pregnant, well, I thought she wouldn't keep it, but then she decides she wants it and there are lots of twists and turns. I hope she does keep it as I am looking forward to wearing a prosthetic belly."
So life must be good for you at the moment?
"I cannot complain, I wake up every day and feel very blessed and thankful. Rosie and I are very lucky and we don't take anything for granted."
Get the latest updates, reviews and unmissable series to watch and more!
Thank you for signing up to Whattowatch. You will receive a verification email shortly.
There was a problem. Please refresh the page and try again.