Faith gets a kiss-off from Pollard and turns to Rodney! Emmerdale's Sally Dexter tells all!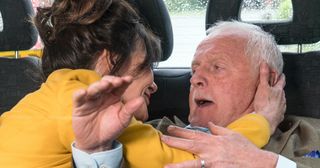 Is it all over for Faith Dingle and Eric Pollard when he rejects her advances? Star Sally Dexter gave Soaplife the lowdown…
Faith Dingle and Eric Pollard have been having a hoot in Emmerdale! But the fun stops when David suggests she's nothing but a gold-digger. Then, when Pollard dodges a kiss, Faith turns her attentions to Rodney Blackstock instead.
"She doesn't want to experience the rejection," actress Sally Dexter told Soaplife. "And Rodney's a very acceptable substitute."
What does Faith make of Pollard? "She thoroughly enjoys his company and taking the Michael out of him. He enjoys it, too."
How would she feel if she knew David had called her 'a gold-digger'? "She'd be extremely affronted and defend herself by saying, 'It's not true! I'm not that sort of woman!' Faith appreciates the fact Pollard has money and he's able to look after her in the way she feels she should be looked after. If you saw the size of his barn conversion, you'd feel the same way."
What happens when Pollard spurns her? "She goes to kiss him and he recoils. It's because David's called her a gold-digger, but she doesn't know this and she assumes it's because of her mastectomy. She feels very vulnerable about that, which is no surprise."
What happens next? "She starts flirting with Rodney. He's a handsome chap and she's trying to get back at Pollard. She's also trying to convince herself she doesn't care for Pollard."
Do you think Faith and Pollard are suited? "For it to work, he'd have to loosen up and she'd have to calm down. She could be up for it, but she was born under a wandering star. She does have the force of personality to make the magic happen."
What's in store for Faith? "There are extraordinary times ahead. The events in the village are quite amazing and she gets very much caught up in them."
Get the latest updates, reviews and unmissable series to watch and more!
Thank you for signing up to Whattowatch. You will receive a verification email shortly.
There was a problem. Please refresh the page and try again.