'Roxy and I are looking forward to Priya and Leyla falling out!' says Emmerdale's Fiona Wade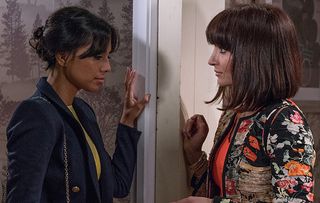 Priya Kotecha is behaving very badly, sleeping with best friend Leyla Harding's bloke, Pete Barton. And now she's fallen for him, says Emmerdale's Fiona Wade
Priya Kotecha has been sleeping with Pete Barton, who is not just another woman's man – he's her best friend's bloke! And Priya thinks she's pregnant!
"She feels terrible about it," Fiona Wade told Soaplife. "Suddenly it has all become much more complicated and she has developed feelings for Pete."
Why is Priya doing this to her best mate, Leyla? "When she first slept with Pete, she was feeling insecure and needed comfort. I don't even think she thought about Leyla [Roxy Shahidi], but now she is just feeling awful because she knows that her friend wants to marry this man." It's not like Priya, is it? "It's like the old Priya. She is a strong and feisty woman and goes for what she wants. She is not completely innocent. She was loyal to Rakesh for a long time and that's when she became a bit more strait-laced."What are her feelings for Pete? "It was never about feelings at first, but they have crept in. She wants a husband and a family unit. She craves that a lot. Having slept with Pete a few times now, she has fallen for him."What will happen if Leyla finds out the truth? "We might have a full-on cat fight! That would be fun! Priya and Leyla usually have lots of giggly, girly scenes, so we are both looking forward to them falling out!"Would it ruin their friendship? "I'd like to think that they could move on from this. Leyla is Priya's only friend and was there for her throughout her eating disorder. They're not just friends in passing. She helped her through the break-up with Rakesh, too. The more I think about it, the worse I think this situation is!"
Emmerdale, ITV
Get the latest updates, reviews and unmissable series to watch and more!
Thank you for signing up to Whattowatch. You will receive a verification email shortly.
There was a problem. Please refresh the page and try again.