Emmerdale's Gemma Atkinson: 'Marlon's about to propose again, then he sees Carly and Matt together...'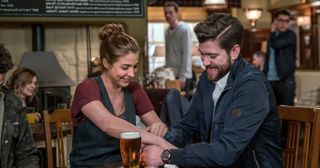 Carly Hope's head is turned by her hunky ex Matt, just as Marlon Dingle is planning to propose, explains star actress Gemma Atkinson
Carly Hope's hunky ex Matt turned up in Emmerdale and as time has gone on, the pair have got closer and closer. Marlon can see there is still a spark between the pair and now he's beginning to panic.
"Carly has realised that Matt is a good person," said Gemma Atkinson. "Marlon has seen them together and is getting anxious." Should he be worried?
How does Carly feel about having Matt around? "She is relieved that they have managed to get some kind of closure around the death of their son. Seeing him did knock her for six as it would with anyone who sees the one ex who got away."
People seem to like him, don't they? "Well, he is such a likeable guy. People see that he has no agenda and is a genuine guy who has been hurt as much as Carly. In her head, he was the bad guy who upped and left, but now Carly sees that he has been in turmoil as well."
Why did Carly get in touch with him? "She felt that she needed to let Matt know about Billy's death so that she could move on and put it to rest properly. Matt didn't even know that his son had passed away."
How does Carly feel when Bob reveals that Marlon was set to propose? "She didn't know that he was even thinking about it and worries that he's been put off by the fact that Matt is around. Carly talks about it with Marlon and they make up, but then as he is about to ask her again, he sees her and Matt together."
Does she realise that Marlon is jealous? "Not to start with, as he is such a good liar. However, Paddy starts to pick up on things like the fact that Carly lights up when she is around Matt and it doesn't help that Charity fancies him and keeps saying things like 'How fit is Carly's ex?'"
Why does she lie about doing a business deal with Matt? "She needs money and wants to organise a surprise for Marlon. He sees her arranging to meet Matt, but she tells him she is seeing Tracy, which makes him suspicious."
Has she got any ulterior motives? "I think she knows this will be her last chance to spend time with Matt. She is seeing it as one last bit of fun before he leaves."
Is there something between them? "Well, she has started looking at him for longer than she should and feels a bit too comfortable around him."
Is he a threat to her relationship with Marlon? "Carly's priority is Marlon and April and she tells Matt that he has to go because his presence is affecting them. She will do anything to keep Marlon happy, but who knows?"
How does she see things progressing with Marlon? "She thinks that once Matt is out of the picture and she has closure over Billy's death, they can have their happy ever after…"
Get the latest updates, reviews and unmissable series to watch and more!
Thank you for signing up to Whattowatch. You will receive a verification email shortly.
There was a problem. Please refresh the page and try again.