'Cain's DNA won't change, but I think he's a good match with Harriet,' says Emmerdale's Jeff Hordley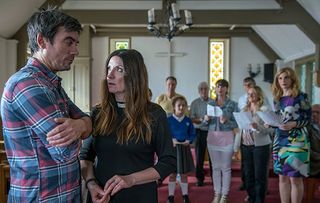 Emmerdale's Cain Dingle is one of the biggest sinners in the village, but vicar Harriet Finch seems to find that very attractive! Jeff Hordley talks about their hot romance
Heavens above! Devilish Cain Dingle is going to church – a lot. And every time he's praying vicar Harriet Finch will let him show her just how much he wants her. She usually does, too. Yes, Cain breaks more commandments than Harriet would like but, being a vicar, she's big on forgiveness. None of that, though, helps the villagers understand this union.
"Cain's daughter Debbie is not keen," Jeff Hordley told Soaplife. "Debbie [Charley Webb] is convinced he's making a mistake. His ex Charity [Emma Atkins] finds it amusing and his half-brother Sam [James Hooton] keeps making jokes, but Cain doesn't care because when Harriet was stabbed, he realised how much he liked her. Seeing her in hospital was a game-changer for him. People disapprove, but Cain is riding the storm and people will just have to accept it."
Ah, but then the Bishop turns up unexpectedly… "Cain and Harriet [Katherine Dow Blyton] are in the vestry and things are getting a bit racy. Somebody walks in so Harriet goes to greet them and sees that it is Bishop Barry. Cain has to do some very quick thinking!"
Will Harriet change Cain? "His DNA will never change, but he has mellowed as he's got older. They just like each other. She is kind of a rebellious vicar and he sees that in her character. I think they're a good match. She is not scared of giving her opinion and that is the kind of person that Cain needs to be with."
Would he take Moira (Natalie Robb) back? "Not unless she gave him a definite green light. There are probably feelings there, but as far as Cain is concerned, it's over."
Do viewers approve of his new love? "A lot of people really like them together, but you always get divisions. Some people like it when he is with Charity and others would prefer him to be with Moira. I'm just lucky that I get to work with such good actresses. Katherine is such good fun – we have a real laugh.
Emmerdale, ITV
Get the latest updates, reviews and unmissable series to watch and more!
Thank you for signing up to Whattowatch. You will receive a verification email shortly.
There was a problem. Please refresh the page and try again.