'Jimmy's got another woman pregnant - again!' reveals Emmerdale's Nicola Wheeler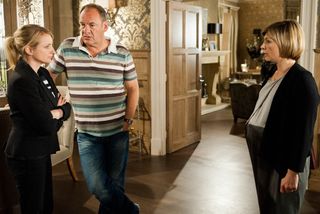 Emmerdale's Nicola Wheeler tells Soaplife that Nicola King is furious and heartbroken when she learns Jimmy's going to be a dad again… with another woman, again!
Nicola and Jimmy's marriage has been a rough ride and, just as they're on an even keel, things are going to get rocky again… A woman called Juliette pitches up and declares she's pregnant with Jimmy's baby. "Nicola assumes Jimmy's had an affair," Nicola (opens in new tab) explains to Soaplife. "Then she finds out Jimmy made a deposit at a sperm back without telling her."
Why did Jimmy (Nick Miles (opens in new tab)) go to a sperm bank?
"A few years ago, he and Nicola agreed that he'd have a vasectomy. At the time, Jimmy decided to deposit some sperm, just in case. He tries to tell Nicola that, in the event of her death, he might want another child."
So Nicola didn't know about this?
"No, he didn't tell her, then he forgot about it. She's angry he kept it from her and also worries he might have felt bullied into having a vasectomy. She likes to think that was a joint decision."
So how is Juliette carrying Jimmy's child?
"There was a mix-up at the clinic and Juliette was impregnated with the wrong sperm. So Nicola thinks she's after money."
Is she?
"No. Juliette wants Jimmy to sign a form for anonymity, so that he has no influence over the child. Nicola thinks it's a good idea and encourages him to sign."
But Jimmy's heartstrings are tugged when he hears Juliette's calling her baby Carl…
"That's a coincidence. Juliette doesn't know Jimmy's late brother was called Carl and it just rubs more salt into the wound."
Does Jimmy want to be involved in the baby's life?
"He says he doesn't, but Nicola sees he's not telling the truth and they row about it. A lot."
Could Nicola accept the child?
"She did with Elliot, the son Jimmy had with Kelly, and it was thrown back in her face, so it's difficult for her. Also, Nicola's very stubborn. If she doesn't like something, she won't change her mind easily."
Are there any more women carrying Jimmy's babies?
"Well, Nicola is thinking, 'Who else is going to turn up pregnant by Jimmy?'. But, apparently, on this occasion, Juliette had the job lot."
Is this a threat to their marriage?
"Absolutely, but I hope they stay together. Viewers love Jimmy and Nicola as a couple. They're well suited. Nicola's changed a lot. She used to be a person who'd sell someone's grandma for a quick buck, but she's not a bitch any more."
Emmerdale (opens in new tab), ITV. Click here (opens in new tab) for dates and times.
Get the latest updates, reviews and unmissable series to watch and more!
Thank you for signing up to Whattowatch. You will receive a verification email shortly.
There was a problem. Please refresh the page and try again.