Emmerdale's Laura Norton: 'Kerry loses her job then trashes the factory!'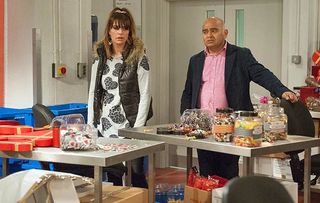 (Image credit: Andrew Boyce)
Kerry Wyatt has always been a bit wild but, without Dan Spencer by her side, she has gone completely off the rails, as actress Laura Norton reveals
For a while, it looked as if Kerry was happily on the right side of bonkers, but now that Dan has dumped her, she's gone off the deep end in Emmerdale. Laura Norton tells Soaplife about the bad choices Kerry makes...
How is Kerry feeling about Dan now? "She's pretending that she can't stand him, but that's only because she's so hurt and doesn't want to admit it. She's making bad decisions and some of that is for Dan's benefit. He tries to show her that he cares, but she's not prepared to listen."
She messes up big time at work, doesn't she? "Yes. Since Laurel left she has been trying to move her way up. She sees an opportunity when this client called George [Duncan Casey] comes in. He takes a shine to her and she thinks she has helped the factory land a new contract. But after sleeping with him she realises landing the contract wasn't exactly anything to do with her business skills."
And she messes up the deal… "George is about to sign the contract when Kerry hears some comments about how he is putting some moves on Priya [Fiona Wade] and using the same lines that he gave to her. She sees red and loses it. She has a go at George, he doesn't sign the deal and Jai ends up firing her."
And she doesn't take that well, doesn she? "Well, Jai [Chris Bisson] is so angry that he refuses to pay Kerry her wages and asks her to leave the factory. She decides to get back what she is owed by breaking in through an open skylight."
What happens next? "She trashes the place, stuffs her face with chocolate and gets drunk. She wakes up inside the factory and panics when she hears Jai and Rishi [Bhasker Patel] approaching. She can't remember what she did and tries to wriggle out of trouble. The thing about Kerry is, she thinks she is invincible. She's not worried because the Sharmas don't scare her. Dan however, doesn't want her to ruin her life - she has a grandson in the village, after all."
Do you think Dan and Kerry will get back together? "Liam [Fox, who plays Dan] and I would both like to see them reconcile, but it has been fun doing different things. I think they will be a part of each other's lives no matter what."
Emmerdale, ITV
Get the What to Watch Newsletter
The latest updates, reviews and unmissable series to watch and more!