Emmerdale's love triangle stars talk Leyla and Pete's wedding: 'It's all been a bit of a mishap' (VIDEO)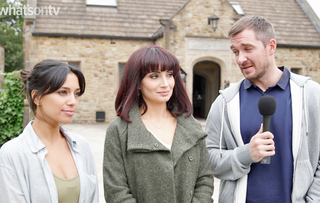 Emmerdale actors open up about the soap's latest will they/won't they wedding drama
Emmerdale's Leyla Harding and Pete Barton are set to walk up the aisle on Thursday, but as wedding's go it's been so rushed you wonder where the shotgun is.
What's on TV caught up with stars Roxy Shahidi (Leyla), Anthony Quinlan (Pete) and Fiona Wade (Priya) to talk about their jangling nerves as the big day approaches.
Good guy Pete realises he needs to confess to Leyla his affair with her best friend, Priya. But he wouldn't be the first soap character to run for the hills instead.
Anthony said the nuptials had been a 'bit of a mishap' from the proposal to the wedding plans.
He added: "Obviously it's a big day and Pete has been through all this before (with Debbie Dingle), but with what's going on with Leyla's best friend he feels he should come out and should be honest and tell her exactly what's going on. I don't think you can get involved in a marriage with all these lies and deceit going on…
"Pete is nervous, but he wants to tell her exactly what's going on."
Equally, Priya has deceived her best mate, but sees the wedding as her chance to redeem herself with Leyla – even if she doesn't actually confess to her crime.
Fiona said: "Priya is really just wanting to be there for her best friend, she made the decision that it's not Pete, it's Leyla that she wants to keep and... she really, at the moment she just wants to be the maid of honour. She just really wants to live up to that, just be her best friend. And try and put everything behind her… and is kind of squashing her feelings."
Leyla, meanwhile, senses all is not right with Pete.
Roxy said: "She's got that sixth sense, that woman's intuition, Pete's behaviour has been a little bit erratic in the lead-up to the wedding, although she doesn't know why, that's it's not sitting well with her.
"But there's a little bit more to it than that. I feel like they have just rushed and, as much as she loves him, and she really does love him and they work really well together, I still think she knows she's rushed into it and there are a few things going on that are leaving her a bit unsettled..."
Will the deceit derail the wedding in explosive soap style, or will Leyla and Pete put their doubts to on side and become man and wife? Watch Emmerdale this Thursday.
Get the latest updates, reviews and unmissable series to watch and more!
Thank you for signing up to Whattowatch. You will receive a verification email shortly.
There was a problem. Please refresh the page and try again.