Lucy Pargeter: 'What you're seeing is the repercussions of all that's happened to Chas over the years'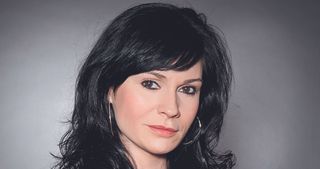 Bad things happen in soap operas, and, let's be honest, we probably wouldn't tune in if they didn't. Pay a visit to Emmerdale (opens in new tab) village and you're likely to cross paths with murderers, adulterers and crooks in the time it takes to walk from the Woolpack to the corner shop.
For one resident however, the constant trauma is now taking its toll. Chas Dingle, who has been behaving oddly for a while, is diagnosed with post traumatic stress disorder next week. She's already stabbed poor Diane Sugden in the dark and is convinced that she is being stalked by off-kilter nurse Emma Barton, but the truth is the demons are all in her head…
Emmerdale's Lucy Pargeter talks to TV Times about Chas Dingle's disturbing battle with mental illness.
How have you tackled the mental health storyline?
"I am surprised that the whole village hasn't been diagnosed with it at some point [laughs]. Finally, we are showing the audience that you can't go through as much stuff as Chas has without there being some consequences.
"People think it is only soldiers that suffer from PTSD, but it can happen to anybody and can have so many different triggers."
What research have you done to portray the illness truthfully?
"We have been working closely with the charity MIND. They are quite happy for us to be doing this with a female character. We have been working with them to find out how the symptoms can manifest. With Chas, there has been some sleepwalking and when it really takes over, hallucinations kick in."
You've been in Emmerdale for 13 years and had some very demanding storylines to date...
"Yes, Chas was raped by Carl King in 2012 and a year later, narrowly escaped death at the hands of Cameron Power, who was engaged to her niece. What is happening now is the repercussions of all the things that have happened over the years to Chas. And the way they are filming it, is very different."
The PTSD storyline must have been pretty challenging?
"It's been a really big challenge. I like the way they have built it up gradually. I knew that this was coming up earlier this year and have been looking forward to it."
You've been working flat out and recently moved house, so how have you managed?
"We're renovating this new house and my daughter has changed school, so it's been full on. I've been really het up for the past couple of months, but it has been brilliant. As an actor, you always have that devil on your shoulder saying 'You're not doing this right', but I hope I have. If I haven't, I apologise massively. I've been blessed really because it is a great storyline."
What do you do to unwind after a hard day at work?
"I'm a real homebody and love chilling out with my family and walking the dogs. But I haven't been able to relax at home because it's been in a state of upheaval. I have just had a week's holiday, but it hasn't really been a holiday because I spent the time wrangling with builders.
"I haven't had any time to relax, but I'm fine, really. I would like a massage and I'd really love a manicure, but I just don't have the time. Let's just say I am really looking forward to Christmas."
Do you find it hard juggling work and home life?
"Nobody talks openly about what a struggle it is to juggle work and home life – you can't have it all as it kind of has to fall apart. Everything frays at the edges and something has to give. I am not special. Everybody does it. It's what happens in normal life it is just that our hours are a bit more unsociable, but then if we weren't doing it, we wouldn't be able to enjoy the lifestyle that we have.
"When I come to work, I am never bored. If you were doing these hours and not having fun at work, well, that would be scary."
How do you manage to look great and keep in good shape after such long hours at work?
"I put it down to what I eat and drink. I'm a keen juicer and have got half the cast of Emmerdale downing exotic concoctions on a regular basis. Everybody here juices now. I used to do it every night, but that was a bit of a strain, so I do it on a Sunday and shove it all in the freezer to take out the night before.
"I am not perfect, though, as some weeks when I am really busy, as it is at the moment, my life is one big snack fest!"
Get the latest updates, reviews and unmissable series to watch and more!
Thank you for signing up to Whattowatch. You will receive a verification email shortly.
There was a problem. Please refresh the page and try again.