Mark Jordon says his 'shorthand and trust' with co-stars made his Emmerdale return seamless (VIDEO)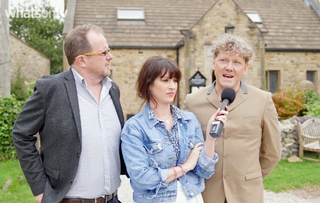 Mark Jordon, who plays Daz Spencer in the ITV soap, says he and co-stars Liam Fox and Laura Norton picked up where they left off three years ago
Actor Mark Jordon says that the shorthand he and co-stars Laura Norton (Kerry) and Liam Fox (Dan) have made his return to Emmerdale after three years away feel like he only left a week ago.
Mark, who plays ex soldier Daz Spencer, told What's on TV: "What's lovely is, since I was last here, the friendship between Laura and Liam and what was the nephew, Sean, we've all been out together, we've all kept up our friendship, so to arrive on set with your buddies, like Liam just said, about having this shorthand now and this trust, to be able to tell each other and guide each other through whatever we need to do is amazing, really."
Daz left Emmerdale three years ago when he tried it on with his brother's fiancee Kerry on her wedding day. When Kerry spots him dishevelled and clearly homeless in another town's market place, she decides to intervene.
Mark said: "In those three years we find out there have been some extraordinary circumstances that have put Daz out on the streets. He's definitely at the bottom of the barrel, he's down and out and then a heroine in the shopping market spots him and makes it her mission to... try and bring Daz back into the fold and at least get him on the right track to get himself sorted."
He added: "As it transpires it may bring him back more permanently into the village.
Laura explained what prompts Kerry to try and help Daz, despite knowing his brother, Dan, will be furious – Kerry was once homeless herself.
"It's a connection to Kerry's past and that's why she feels so strongly about going back to find him and help her and you learn a lot more about her..." she said. "You learn that she's been something very similar and this is basically her opportunity to, one, help her boyfriend and to help somebody who's in a position that she's been in before."
Mark's return to Emmerdale begins on ITV from Monday, August 28
Get the latest updates, reviews and unmissable series to watch and more!
Thank you for signing up to Whattowatch. You will receive a verification email shortly.
There was a problem. Please refresh the page and try again.