"I'll be lucky if my lot remember!", Emmerdale's Lucy Pargeter and Sally Dexter talk Mother's Day and onscreen relationships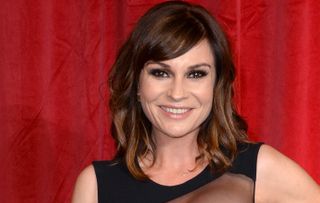 (Image credit: Doug Peters/EMPICS Entertainment)
Emmerdale stars Sally Dexter and Lucy Pargeter reveal what's in store for mother and daughter duo Faith and Chas Dingle this Mothering Sunday – and share some of their own special memories...
While mums up and down the country will be getting chocolates and flowers this Mother's Day, (we hope!) there'll be no such gifts for Emmerdale's flightly Faith Dingle, who'll be lucky to get the time of day from daughter Chas.
But while Chas is determined to keep her estranged mum at arm's length, Faith is equally intent on building bridges, and has an ally in granddaughter Debbie. Can the pair be reunited? Actresses Sally Dexter and Lucy Pargeter give us a hint of what's to come…
What would Chas's idea of the perfect Mother's Day be? Lucy: Not having to deal with the bar or Charity, and having a lovely day with Aaron – who'd be at home and not in prison. They'd have breakfast in the back room, then go for a walk and a talk.
And Faith's? Sally: Definitely a good long lie in and a gentle awakening with a magnum of champagne and smoked salmon for show – and then a bacon sandwich because she loves them!
How is the mother/daughter relationship right now between Faith and Chas?
Lucy: It's not great; it's never been great. Faith has come back on the scene and she's trying to buy her way in with the money she put up for Sarah's cancer treatment. There's an awful lot of history to be worked on and worked out. Sally: Chas is still a bit hostile. But Faith continues to keep trying to have the relationship that she wants with her and Cain, and she always has faith that it will work out in the end.
Why is Chas so anti-Faith? Lucy: It's deep rooted from when Faith left her and Cain with Shadrach. They had an alcoholic father to deal with, so there's an awful lot of hurt and a lot of things she has passed down to Chas, in terms of her own lack of mothering skills.
Debbie wants them to re-unite – what does she do to try and help them along? Lucy: She invites Chas up to Butler's Farm, and Chas is then confronted with Faith, and Debbie saying "We have to sit and talk about this." Sally: Faith desperately wants Chas to give her another chance. There is a point where they almost come together. Chas comes in for a hug but, for one reason or another, Faith declines it. We'll find out why that is at some point…
Would you like Faith and Chas to become close in the future? Lucy: I'm really enjoying exploring the history, and finding out why Chas has done what she has done in the past in terms of parental responsibility toward Aaron. So I'm enjoying the way it is at the moment. Faith: Yes please!! In lots of ways, they are very similar. They've both got this streak of steel through the middle of them, but there is a very soft heart there as well.
Lucy, what do you think of Chas as a mum? She does try, and she's come on in leaps and bounds in the past couple of years. She's more like a friend and a whinging sister sometimes, but she hasn't had anybody to learn from. I wouldn't advocate her way of parenting as the best way to do things, but she's improving.
Sally, do you think Faith is capable of being a better mum? I think Faith will do everything she possibly can to be a better mother - she can't really be that much worse because she wasn't there for them, growing up. She's learnt through her mistakes and she's showing she does have that maternal side with her great granddaughter, Sarah.
Lucy, you're mum, off-screen, to daughter Lola, 11, and you're expecting twins in the Spring. What's in store for you this Mother's Day? I'd be quite happy just not having to get up and do any chores. If I don't have to put any washing on or do any shopping and I can just slob around in my PJs and have some chocolates and a card, I'd be more than happy. Dinner would be the cherry on the top, but I'll be lucky if my lot remember!
And Sally, what do you have planned? My mum's always said she doesn't like Mothers Day; it is a commercial venture and she wants nothing to do with it. One year, I took her at her word and didn't send her a card, and she was furious! So me and my sister don't do that anymore; we'll make sure she gets flowers and chocolates.
What lessons have your own mums taught you? Lucy: I was the youngest of three, and by the time it got to me, my parents had been there, seen it and done everything, so I was pretty much free in that they gave me the advice they knew was right, but let me make my own decisions. So hopefully I'll do that with my own kids. Sally: I remember a piece of advice that she told us her father had told her, which was when she was frightened to go upstairs because of the dark. He'd said "It's not the dead you want to be frightened of; it's the living!" That's stuck with me!
There are lots of mums in the Emmerdale cast. Who do you think deserves an award? Lucy: I'd say it was a tie between Charlotte Bellamy (Laurel Thomas) and Zoe Henry (Rhona Goskirk). Charlotte Bellamy manages three kids, a dog, a house, she always has home-made food on the go and she still manages to come in and be on it at work. Zoe and Jeff (husband Jeff Hordley, who plays Cain) are always taking their kids away at weekends, seeing friends or spending time on their allotment. I can only aspire to be that organised! Sally: I've got to say Lucy. I've got huge respect for the way she's been carrying twins around, standing behind that bar in high-heeled shoes. I've never seen her in flats; I think she's extraordinary!
Alison Slade has over 20 years of experience as a TV journalist and has spent the vast majority of that time as Soap Editor of TV Times magazine.
She is passionate about the ability of soaps to change the world by presenting important, issue-based stories about real people in a relatable way.
There are few soap actors that she hasn't interviewed over the years, and her expertise in the genre means she has been called upon as a judge numerous times for The British Soap Awards and the BAFTA TV Awards.
When she is not writing about soaps, watching soaps, or interviewing people who are in soaps, she loves going to the theatre, taking a long walk or pottering about at home, obsessing over Farrow and Ball paint.
Thank you for signing up to Whattowatch. You will receive a verification email shortly.
There was a problem. Please refresh the page and try again.