Rik Makarem: It's great to be back on Emmerdale – I feel like I've developed as an actor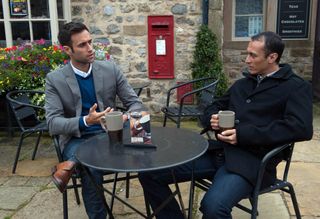 Emmerdale's Rik Makarem (opens in new tab) tells Soaplife how Nikhil's flying visit home from Canada turns into a longer stay…
What has Nikhil been up to in Canada?
"He has built up an empire of hotels and is doing very well. I think he had to move away from the nest in order to flourish. He has carved out a new life for himself and [daughter] Molly and has managed to move on."
Is it hard for him to return to the village?
"It is because he was able to block out memories of his wife Gennie's death while he was away. He had a coping strategy and now we will have to see if he is able to remain strong while he is in the place where she was killed."
Has Nikhil changed?
"He has. He used to let his OCD come out, but that isn't so pronounced now. I think being a dad has given him a reason to get a handle on that. He is much more grounded and less rigid than he was before."
What does Nikhil think when Rishi says he wants him to take over at the factory?
"Nikhil is clearly the right man for the job, but he wants to stay in Canada and would rather avoid being part of this family drama. He would rather Priya took over, but the situation has got so bad, he has to stay."
Even after being punched by Ross (Michael Parr (opens in new tab))?
"That comes as a bit of a shock, but it is because he is having an argument with Debbie [Charley Webb (opens in new tab)]. Nikhil still thinks Debbie is responsible for Gennie's death…"
Is he pleased that his daughter Molly is surrounded by family now?
"Absolutely. There has probably never been a right time to begin that process, but I think they have been in touch via Skype, etc. Nikhil is so used to looking after Molly on his own, I don't think he realises how much of a help it could be to have family around."
Are you pleased to be back?
"Of course, this is a wonderful show and it is in a great place at the moment. When I left, I felt there was nowhere for Nikhil to go, but I am thrilled about how he has changed and will be driving storylines and emotions."
What has changed?
"I've changed in the two years I've been away. I've gone off and done a number of different projects and feel that I have developed as an actor. As for work – well, the canteen food is excellent now. I do love it when a sweet potato appears and they even have gluten free bread now."
Who were you most pleased to see?
"Matthew Wolfenden (opens in new tab) [who plays David Metcalfe] and I are friends and I really enjoy working with him. Bhasker Patel (opens in new tab) [Rishi], Fiona Wade (opens in new tab) [Priya], Lesley Dunlop (opens in new tab) [Brenda], Chris Bisson (opens in new tab) [Jai]… It's great to see everyone who is part of the Sharma family crew."
Emmerdale (opens in new tab), ITV.
Get the latest updates, reviews and unmissable series to watch and more!
Thank you for signing up to Whattowatch. You will receive a verification email shortly.
There was a problem. Please refresh the page and try again.