Lisa rushed to hospital as Gabby's latest prank on Daz goes wrong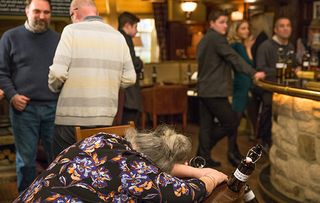 Lisa drinks a spiked pint meant for Daz in Gabby's prank-gone-wrong
The Dingles are sent into a commotion when Lisa keels over in the Woolie. It's not that she's had a pint too many, it's that she's had the wrong pint. Poor Lisa ends up in hospital when Gabby and Liv play a prank on Daz, spiking his pint, but there's a drinks mix-up… Vanessa's dragged into the scary saga too as the drug, ketamine, was stolen from her work bag.
Robert's concerned about Seb's welfare as Rebecca's mind is still jumbled. Pollard asks Faith to move in, and Joe finds out that the acid attack on Ross was meant for him… and that Debbie was behind it.
In the Woolie, Lisa keels over having drunk a pint laced with ketamine!
Faith has open arms for Pollard who wants her to move in with him.
Liv is reluctant to get involved as Gabby steals ketamine from Vanessa's work bag. She's planning to spike Daz!
A series of incidents put Rebecca in a tricky spot.
She keeps forgetting simple things such as the fact that she's had a baby.
Worried for their son Seb, Robert insists Rebecca sees a doctor.
Belle rushes over when her mum Lisa slumps over a table in the Woolie…
Lisa has dunk a pint spiked with ketamine, which was meant to be downed by Daz.
Joe learns he was the target of the acid attack, not Ross Barton who took the terrible hit.
As the Lisa saga continues, Aaron reports ketamine has been found in Lisa's system. Vet Vanessa panics knowing the drug has recently been stolen from her work bag…
Joe confronts Debbie about the acid attack. Will she come clean? Watch Emmerdale on ITV from Monday 12th March.
Get the What to Watch Newsletter
The latest updates, reviews and unmissable series to watch and more!