Rakesh is kidnapped in Emmerdale!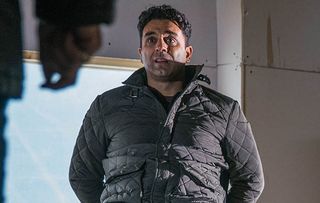 Rakesh Kotecha is abducted after his renewed relationship with Priya goes public - but which of his enemies is behind the attack?
When Rakesh Kotecha and Priya make their renewed relationship public knowledge in Emmerdale there's hell to pay.
Rakesh has got a fair few enemies and top of that are the Kings, who want revenge for the harm he caused Nicola when he set fire to the Mill.  After the news reaches the couple, they reel to hear that they're planning to move abroad as Rakesh has been offered a job overseas.
Jimmy makes sure David knows about Rakesh's arson attempt, knowing he'll kick off. Sure enough, David's angry and there's no way he's going let his ex, Priya, move away with their daughter Amba and Rakesh. But is the shopkeeper angry enough to attack the bent lawyer?
After being struck over the head, Rakesh comes to and finds himself bound to a chair. But who's his captor? And will the bent lawyer make it out alive?
Having been hit over the head and knocked out, Rakesh comes to to find he's been bound to a chair…
Earlier, withtheir marriage back on track, Priya and Rakesh choose to make it public knowledge.
When Priya's own brother Jai reacts badly to the news, the couple worry about how others will receive it.
After being clonked over the head, Rakesh comes round and discovers he's been kidnapped!
He's been bound to a chair - but who's his captor and tormentor? Watch Emmerdale on ITV from Monday, February 27
Get the latest updates, reviews and unmissable series to watch and more!
Thank you for signing up to Whattowatch. You will receive a verification email shortly.
There was a problem. Please refresh the page and try again.