Rhona returns to rehab after her relapse in Emmerdale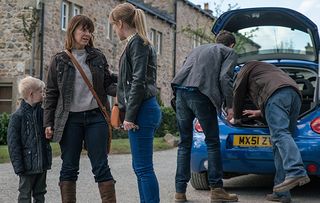 Painkiller addict Rhona bids a tender farewell to her son and loved ones as she leaves the village to go into rehab.
It's an emotional week in Emmerdale as painkiller addict Rhona packs a bag, says her goodbyes and heads off down south to go into rehab.
Elsewhere, Marlon's planning to pop the question but is blind-sided by the arrival of Carly's good-looking ex. Nell gives everyone a shock when she turns up at Amba's birthday party looking just like Holly. But the addict is soon firmly in the firing line with suspicious Priya.
There's stress brewing, too. Dan resolves to tackle bullies Josh and Jamie when they cause yet more trouble in the village. But when Dan is later found towering over motionless Josh, was he responsible for knocking the teen unconscious? Zak gets Victoria's business in deep trouble when he and Sam 'help out' at a vegan market! Uh oh…
Rhona's relapsed and become addicted to pain-killers again, following Pierce's vicious attack.
Vanessa's relieved that her best friend is confronting her problem.
With her bags loaded into the car, it's time for Rhona to say goodbye to her beloved little boy Leo.
Elsewhere, Carly gets the shock of her life when she walks in to the Woolpack…
… and is confronted by the sight of her ex, Matt, the father of her late son. What will this mean for Marlon's plan to propose to Carly?
Nell's arrival at Amba's party causes a stir as she turns up in a fancy outfit looking just like Jai's ex Holly. The addict later gets the blame when Amba is found with pills in her hand.
Dan resolves to tackle the local bullies but finds one of them, Josh, unconscious!
Will Dan do the right thing and dial 999?
Who attacked Josh... and who will get the blame?
Zak's skint so Victoria suggests he help serve in her food van at an upcoming event.
With Victoria too busy to man the van, Zak and Sam step in.
But Zak and Sam get into hot water when they start selling meat burgers… at the vegan market!
As the punters come after Zak, will he get out of the fix? And what is Victoria going to say? Watch Emmerdale on ITV from Monday, May 15.
Get the latest updates, reviews and unmissable series to watch and more!
Thank you for signing up to Whattowatch. You will receive a verification email shortly.
There was a problem. Please refresh the page and try again.