I Confess! Robert reveals his fling with Rebecca to Aaron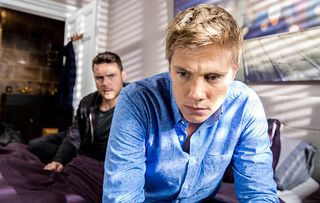 A guilty Robert can't bear to deceive Aaron and admits he slept with Rebecca while he was in prison....
Following Aaron's release from jail, he and Robert return to Emmerdale ready for a fresh start in their new home. But while Aaron is delighted to be a free man, his husband is racked with guilt over his one night stand with Rebecca which resulted in her getting pregnant.
Despite his best attempt to bury the truth, with blackmailer Ross in the know and on his case, a tortured Robert knows he has no option but to confess all to Aaron before he hears the shock news from a different source.
As the reunited couple prepare to spend their first night alone together, it's all too much for Robert who suddenly blurts out the truth... How will a shocked Aaron take the shattering news? And how can the couple move on from Robert's terrible betrayal?
Earlier on in the Woolpack, Charity is intrigued when she overhears Debbie and Rebecca discussing a business idea and tells them she too wants a piece of the action or she'll spill the beans to Rebecca's dad Lawrence.
Later Robert shows up and begs Rebecca to get Ross to stop his ruthless blackmailing over their one night stand.
Rebecca is taken aback by Robert's genuine vulnerability and promises to get Ross off his back. Does she still have feelings for her ex, Robert?
Rebecca confides in Victoria and tells her friend she's decided to keep the baby but won't be drawn on revealing the identity of the father.
Aaron's overjoyed to be released from prison and looking forward to his first night alone with Robert in their new home.
However as the pair lie on the bed and emotions run high, Robert has an attack of guilt and blurts out the truth about his one-night stand with Rebecca.
An appalled Aaron can't believe what he's hearing and feels utterly betrayed. How will he cope when he also learns Rebecca is expecting Robert's child!? Watch Emmerdale on ITV from Monday, May 22.
Get the latest updates, reviews and unmissable series to watch and more!
Thank you for signing up to Whattowatch. You will receive a verification email shortly.
There was a problem. Please refresh the page and try again.