Alicia fights back against Ethan in Casualty - lives are at stake!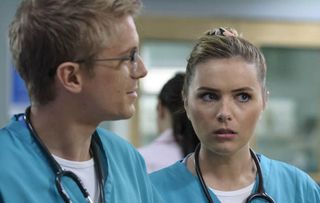 (Image credit: BBC/Alistair Heap)
Will she expose the ED as a danger to patients?
There are distressing scenes in Casualty this week as the emergency department is brought to its knees. Short-staffed and full to capacity, with patients on trollies in corridors and ambulances backed up outside, tempers are short and accusations fly.
Acting clinical lead Ethan Hardy (George Rainsford) is forced to play musical beds with the most severely ill patients - a dangerous game that puts lives at risk and angers staff. Doctor Alicia Munroe, a close friend and ally of Ethan's, uncharacteristically doesn't hold back when things quickly go wrong.
By the end of the shift demoralised Alicia (Chelsea Halfpenny) decides to write an honest, anonymous blog article criticising the ED and NHS. But will she actually publish it?
Elsewhere, it's Charlie and Duffy's first wedding anniversary. However, any plans they had to celebrate go out the window as the ED is overflowing with dangerously ill patients.
Also this week it's new junior doctor Bea Kinsella's first day at the ED. She relishes the opportunity to get stuck in, but before her shift is finished Bea (Michelle Fox) realises her career could be over before it's begun. Initially the ED's other junior doctor, Rashid Masum (Neet Mohan) is excited to see high-spirited Bea in the department, but it soon becomes clear they both have very different strengths and weaknesses...
Meanwhile, Elle takes a call from Blake's solicitor. Melanie Walters (Gwen from Gavin & Stacey) guest stars in a heart-breaking story that has far-reaching consequences for the ED. And paramedics Sam and Iain do everything they can for a gravely ill patient confined to an ambulance in the hospital car park...
Get the latest updates, reviews and unmissable series to watch and more!
Thank you for signing up to Whattowatch. You will receive a verification email shortly.
There was a problem. Please refresh the page and try again.