Autumnwatch New England – BBC2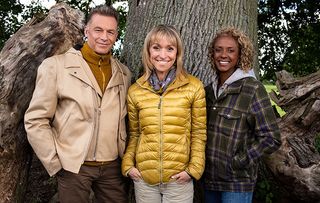 (Image credit: BBC)
Chris Packham and the Autumnwatch team head to the northeast coast of America to witness a most spectacular New Hampshire Fall
The Watch Team swap the UK for the US in this four-part Autumnwatch special, broadcast live from New Hampshire on the Northeast coast of America.
It has all the ingredients for a fantastic Fall, from the six billion trees that create a colour sensation visible from space, to bears, moose and bobcats.
Presenters Chris Packham and Michaela Strachan are live from a log cabin in the Squam Lake area, while co-presenter Gillian Burke goes further afield to get closer to the region's nocturnal mammals, woodpeckers and bald eagles.
As always, expect the unexpected from the network of hidden cameras. Continues tomorrow.
TV Times caught up with Chris, 57, for an exclusive interview about what's in store for viewers… Here's an excerpt:
The last few Watches were filmed at Sherborne Park Estate in the Cotswolds. How does it feel to be heading Stateside? It was great to be at Sherborne because we achieved our mission of wanting to follow one place through all four seasons.
But, of course, it's always exciting to go somewhere new, particularly overseas!
What are you most looking forward to in this series? Personally, it's an opportunity to learn more about that part of the world and see how it contrasts with this part of the world.
Some themes will be the same, like migration, but there's a lot of difference in migration. We also have overlaps in the species – American mink, grey squirrels, starlings, house sparrows.
Looking at the contrasts in their behaviours will be interesting. If a squirrel runs across my garden I don't look twice! But out there, in its natural environment, it will be interesting to see what grey squirrels do.
Do you find bigger mammals, like bears and moose, exciting, too? Oh, yes. In the UK, we have this cosy existence where the largest thing we bump into at night is a fox or a badger!
But they have bears, bobcats and moose. Moose are huge! I'm particularly interested in animals like raccoons and skunks because they've overcome adversity and are doing well.
Skunks have a reputation, but they're fascinating.
Where are you broadcasting the live shows from? There are two hubs. Michaela and I are going to be at a picturesque log cabin on Squam Lake.
Basically we'll be where On Golden Pond was filmed, which doesn't make me Henry Fonda! I hope Michaela's watched the film so we can do lots of references.
Gillian's going to be at the Squam Lakes Natural Science Center.
We're following the same practice as all our Watches and will put out live cameras. We've already got some really good stuff.
The full interview is available in this week's TV Times on sale on 9 October.
TV Times rating: *****
Get the latest updates, reviews and unmissable series to watch and more!
Thank you for signing up to Whattowatch. You will receive a verification email shortly.
There was a problem. Please refresh the page and try again.