Bex Fowler makes a surprise confession to bestie Louise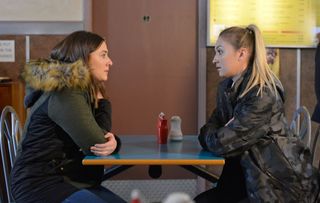 (Image credit: BBC / Kieron McCarron)
Bex Fowler reveals to Louise how much of a crush she had on Gethin, leaving Louise shocked by the strength of her friend's feelings.
Louise is concerned by Bex's mood, realising she seems troubled. When Louise questions Bex on what happened with Gethin, Bex blurts out the whole story. Louise is shocked to learn how much of a crush on Gethin she has. When she realises that Shakil is still keen on Bex, Louise decides to play matchmaker. Will her plan backfire?
Kathy and Ben arrange to have dinner together to talk things through following Kathy's shock revelation about the rape. Ben still isn't sure whether to go through with Luke's invitation to meet up with Willmott Brown. In the end, he decides he needs to meet his mother's rapist face-to-face…
Honey, Michelle, Carmel and Kim prepare for their fund-raising Safari Supper Night. When Karen wants to make the pudding, an unsure Honey agrees. Will their evening go to plan?
(First Episode)
Get the latest updates, reviews and unmissable series to watch and more!
Thank you for signing up to Whattowatch. You will receive a verification email shortly.
There was a problem. Please refresh the page and try again.