Big Beasts: Last of the Giants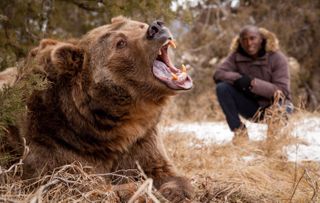 (Image credit: Offspring Films)
Naturalist Patrick Aryee presents Big Beast: Last of the Giants about the planet's largest animals - and he's not afraid to get up close and dangerous
When naturalist Patrick Aryee is yards away from a giant grizzly bear in the first of this series about the planet's largest animals, you fear his presenting career is about to be cut short.
However, it transpires that this big beast of a bear (picture above) was raised by humans, and is safe to get close to.
Patrick also free-dives with a sperm whale, which looks amazing, and tracks down a giant green anaconda – the planet's largest snake.
In between these wildlife encounters, Patrick introduces some of the giant beasts that used to roam the Earth – including a metre-wide snake, an armadillo the size of a car and a three-metre-tall 'terror bird' with a bone-shattering beak!
Suddenly that grizzly doesn't look quite so scary…
TV Times rating: ***
Get the latest updates, reviews and unmissable series to watch and more!
Thank you for signing up to Whattowatch. You will receive a verification email shortly.
There was a problem. Please refresh the page and try again.