Big Mac's killer heart attack?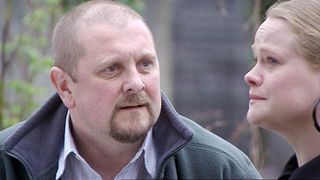 (Image credit: BBC)
Holby City's normally laidback porter, Big Mac, is in a foul mood when he arrives for his shift at the hospital this week. His temper isn't improved when best mate Noel sides with bossy receptionist Louise in a petty dispute. Big Mac storms off but later Louise corners him and gives him a vicious tongue lashing - she even accuses the Falklands Veteran of having no pride and adds insult to injury by calling him fat! When Big Mac's old pal Snapper Morgan is brought into the emergency department, Linda asks Mac to persuade his stubborn friend to have life-saving surgery. Mac manages to talk Snapper into having treatment only for his friend to suddenly die... Snapper's death is the final straw for Big Mac. Shocked he retreats to his 'office' - a storage cupboard he's fashioned into a cubby - and collapses clutching his chest... Louise finds Mac unconscious and frantically alerts the medics. Everyone works hard to resuscitate their friend, as he drifts in and out of consciousness. Finally their determination pays off and Big Mac is stabilised. Meanwhile, as a freak storm rages through Holby, a family's argument reaches boiling point. Jeff and Tamzin bring in the Eldon family - mum Maria, dad Gray and daughters Maddy and Siana. As Gray is treated for a fractured skull, Tom, Jeff and Tamzin are left to piece together the puzzle of what really happened behind closed doors.
Get the latest updates, reviews and unmissable series to watch and more!
Thank you for signing up to Whattowatch. You will receive a verification email shortly.
There was a problem. Please refresh the page and try again.