Britain by Boat – Channel 5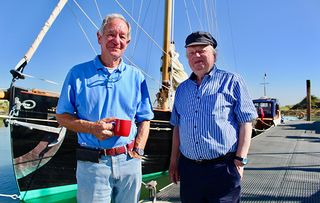 Will two newsmen make waves as they hit the high seas?
Former newsreader Michael Buerk and retired journalist John Sergeant have dealt with some pretty stressful situations in their long careers, but could spending four weeks together sailing around Britain's coastline be the one scenario that finally breaks the amateur sailors?
For this four-part series, these reunited former rivals go on an adventure of a lifetime as they attempt to sail a 50-foot yacht named Bonaventure together, from Lowestoft to Ramsgate, dealing with shifting sandbanks, treacherous tides and busy shipping lanes.
As the duo set sail, will their friendship remain intact by the end of their journey?
Here John, 74, tells TV Times more about their voyage of discovery…
Why did you take up the challenge? I sail every summer with my brother. I may not be a great sailor but I like messing about on boats. However, I know it's a mistake to do on television the things you enjoy in life because it always goes wrong!
How long have you known Michael? We knew each other as reporters and got to know each other when we were working in Paris in 1981. We'd meet in the evenings and eat oysters.
But then you lost touch? We'd meet at parties but we didn't re-establish our friendship so this was a wonderful chance to see if we could rekindle the chumminess and good fun. Although we were sort of rivals, we weren't really. And once you get to our age all the pushing and shoving that goes on as a reporter has gone and it's just fun to meet.
Were you nervous to spend four weeks on a boat with Michael? Yes, because boats have a way of crashing friendships. People insist upon being captain and start shouting. While there was a bit of that, amazingly it went very well. I was worried it could be a voyage of the damned but I think it was more like a buddy-buddy movie instead.
What was the best thing about travelling with Michael? He's very funny and good fun to be with. I think this programme shows the difference between newsreaders and reporters. Newsreaders have to be cool-headed. They don't get rattled whereas reporters get over-excited.
See full interview in TV Times, on sale 13 November.
TV Times rating: ****
Get the latest updates, reviews and unmissable series to watch and more!
Thank you for signing up to Whattowatch. You will receive a verification email shortly.
There was a problem. Please refresh the page and try again.