Brody and Ziggy are kidnapped!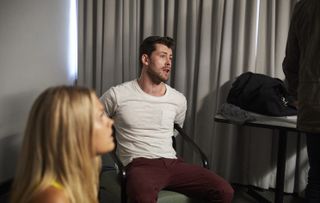 (Image credit: JEREMY GREIVE)
Will Brody and Ziggy escape?
Ziggy refuses to cooperate with Zannis and his henchmen in order to protect Brody. When Ziggy refuses to play ball, Zannis threatens her with a gun. Ziggy manages to run out of the room, when she frees herself from being tied up. However, the henchmen catch her. As they restrain her again, Brody walks into the motel room. Will Brody and Ziggy make it out alive?
Meanwhile, Marilyn has taken a shine to Robbo and wants to do everything in her power to help him regain his memory. So she decides to give him a job as a chef at The Diner. However, it doesn't take long before Marilyn soon realises Robbo isn't cut out to work in a kitchen! Still determined to help, however, she puts pressure on John to give Robbo a job at The Surf Club. Feeling intimated by his wife, John decides to let Robbo drive the bus but John's act of goodwill turns into a disaster...
Unaware of Ziggy's predicament, Ben and Maggie forge ahead with their development plans. However, things come to a grinding halt when they find out the pier has been put up to be heritage listed, stopping all current and future developments…
Tobi Oredein is an award-winning women's lifestyle journalist, media entrepreneur and international public speaker based in London, who focuses on race, feminism, beauty politics & popular culture. Tobi has been commissioned by Buzzfeed, British Glamour, Grazia, Elle UK, Fader, The Debrief, The Independent, The Pool, Stylist, Vice and others. She has also interviewed public figures such as Ryan Coogler, Ava Duvernay and Sir Trevor McDonald.
Get the latest updates, reviews and unmissable series to watch and more!
Thank you for signing up to Whattowatch. You will receive a verification email shortly.
There was a problem. Please refresh the page and try again.