Brothers' Nest - Sky Cinema Premiere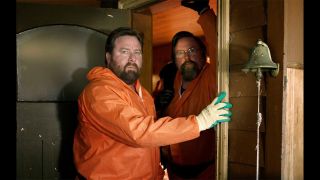 In an excellent Australian black comedy drama, two brothers plot to kill their stepfather. 4/5 stars
It is early morning and two bearded, burly, middle-aged men are pedalling with quiet purpose through a remote corner of rural Victoria.
They look like they're heading for a day's fishing, but these brothers (real-life siblings Clayton and Shane Jacobson) have instead a sinister goal - the murder of their elderly stepfather (Kim Gyngell) in the family home, thereby preventing their dying mother (Lynette Curran) from leaving him the property in her will.
It soon becomes apparent that one of the brothers is far keener on the venture than the other. Bespectacled Jeff (Clayton, who also directs) has drawn up a meticulously finicky, timetabled plan and expects his anxiously passive, sad sack younger brother Terry (Shane) to follow it precisely.
'Failing to plan is planning to fail,' runs one of his pompous maxims. At 8.00am they are to 'synchronise watches' (Terry doesn't have one) and to 'ring mum' - keeping up the deception that they are currently in Sydney by playing a recording of big-city street noise. The item for 10.30am on Jeff's checklist reads 'Electrocution'. But, of course, very little in Jeff's scheme runs according to plan...
The Jacobsons previously made the 2006 mockumentary Kenny, a good-natured comedy in which Shane played a divorced portable loo plumber. Brothers' Nest sees the brothers casting a cool eye on the absurdities of human folly and greed. Their film has a cruel streak of irony, reminiscent of films by another sibling duo - the Coen Brothers' Blood Simple and Fargo.
It also has a powerful emotional undertow, as the tetchy brothers' slowly reveal the family history of dysfunction and bitterness that has led them to this pass.
Get the latest updates, reviews and unmissable series to watch and more!
Thank you for signing up to Whattowatch. You will receive a verification email shortly.
There was a problem. Please refresh the page and try again.