Can Louise hack her new nursing role?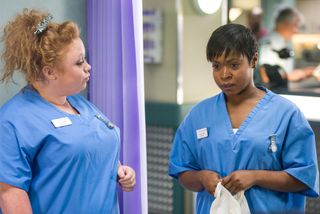 (Image credit: BBC)
It's Louise's first day as a medic at Holby ED and the receptionist-turned-nurse is nervous. Her shift doesn't get off to a good start – she gets misses her bus stop and her uniform is a size too big… but at least she gets a warm welcome from her colleagues!
As the shift progresses Louise begins to wonder if she's up for the job. For one thing, she's used to giving orders and struggles to adjust to her new role. She's also miffed at being allocated minor cases and having junior nurse Robyn as a mentor. And her bedside manner leaves a lot to be desired, as she's abrupt, rude and judgmental!
When a serious case comes in, Louise freezes. She can't keep up with the pace in Resus and consultant Zoe insists she leaves at once!
Later, however, Louise's bedside manner improves, and she manages to help save a patient. It's a steep learning curve, but it looks like Louise's first day has been a success.
Elsewhere, Max is avoiding his new wife Zoe. Although Max's stepsister, Robyn, has some harsh words for the unfaithful consultant, Zoe sees a glimmer of hope when she realises Max hasn't told anyone else at work about her hen night infidelity.
Paramedic Iain is accused of assaulting a traffic warden, but later persuades the man to drop his charges - with a little help from Rita. His boss Dixie, however, insists he reads up on an anger management course.
Meanwhile, Honey has serious doubts about her relationship with posh doctor Ethan…
Get the latest updates, reviews and unmissable series to watch and more!
Thank you for signing up to Whattowatch. You will receive a verification email shortly.
There was a problem. Please refresh the page and try again.