Casualty spoilers: Alicia's shock departure!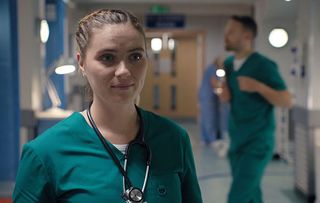 (Image credit: BBC)
Alicia quits, Marty's lies are exposed, and Connie returns in this week's Casualty
Alicia quits Holby ED! Will she dump Ethan too?
Doctor Alicia Munroe decides to pack up her stethoscope for a fresh start in Manchester this week, but it's not an easy decision…
Life changes for Alicia when she opens a letter from the City of Manchester Hospital offering her a prestigious paediatric fellowship. She immediately heads to the staff room to share the exciting news with boyfriend Ethan Hardy, only to spot him admiring what looks to be an engagement ring!
On the horns of a dilemma, Alicia confides in colleague Elle Gardner that she's considering turning down the post. Meanwhile, Ethan books a table at a posh restaurant hoping Alicia will agree to become Mrs Hardy…
Over the course of her shift, Alicia gets advice from both Elle and clinical lead Connie Beauchamp, but it's the complex case of young patient Donnie Herbert that seals the deal, and Alicia decides her future lies elsewhere.
How will Alicia break the news to Ethan?
For more on Alicia's exit read our interview with Chelsea Halfpenny, who plays her
Will Marty's lies lead him to resign?
Junior nurse Marty Kirkby is on cloud nine this week… which means he's oblivious to the storm that's brewing around him!
As the day begins Marty's relationship with doctor Josh is blossoming, he's making himself indispensible at work, and generally feels he's winning at life. But when Marty stretches himself too thinly, offering to do extra shifts on the ED, collect Robyn's daughter Charlotte from crèche and also go on an observational shift with the paramedics, Marty's web of lies are blown apart…
Robyn and Josh both discover Marty's been pretending Charlotte is his daughter, senior nurse Louise Tyler is furious when he lets her down on the understaffed ED and paramedic Iain Dean ends up kicking Marty off his ambulance for his attitude while on duty. Even rookie Ruby is unimpressed with Marty's behaviour!
Ashamed and remorseful, Marty realises he needs to reconsider his future at Holby ED. Is it time for him to get another placement?
Also this week
Connie returns to her rightful place at the helm of Holby ED. But when Elle, who's been covering Connie's duties while she was away, suggests some changes she'd like to make, will Connie feel her best friend has gone from stepping into her shoes to stomping on her toes?
Overworked, broke and with no way of making ends meet, Louise pays a visit to a local food bank, where she runs into a familiar face. Will she admit the truth she's been hiding from her colleagues?
Ethan has grand plans to propose to Alicia, however he's left considering his future at the ED when she breaks the news of her new fellowship role in Manchester…
Get the latest updates, reviews and unmissable series to watch and more!
Thank you for signing up to Whattowatch. You will receive a verification email shortly.
There was a problem. Please refresh the page and try again.