Connie Beauchamp's secret torment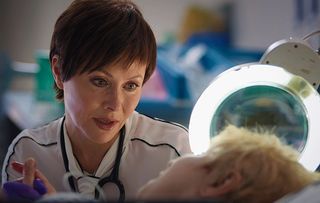 (Image credit: BBC)
Casualty spoilers! Connie suffers in silence, while a terrible ordeal lies ahead for Alicia…
Outwardly Connie Beauchamp seems back to her old self following the cancer ordeal that nearly killed her. She's returned as clinical lead in Holby ED and running the department like a well-oiled machine. But when Connie's friends, elderly husband and wife Maggie and Ray Coomes, are admitted to the hospital in tragic but mysterious circumstances, Connie's left reeling!
Maggie (EastEnders' Lin Blakely) is admitted with a shocking head wound and is confused, upset and unable to recognise Connie. Some time later Maggie's husband Ray (Catastrophe's Gary Lilburn) is also admitted and appears to have taken an overdose. As the truth about Maggie and Ray's heart-breaking situation unravels, Connie is tested to her limits. On the surface she copes admirably but underneath Connie's distressed and experiencing strong emotions…
Will Connie reach out to Charlie, who can see she's deeply affected by Maggie and Ray's shocking predicament?
Elsewhere, the atmosphere is still chilly between former lovers, doctors Alicia Munroe and Ethan Hardy, but there could be a thaw this week!
Ethan can barely stand to be in the same room as Alicia since discovering she wrote a blog criticising his running of the ED. Tensions melt, however, when Ethan starts a good-natured competition between the junior doctors they're mentoring…
Alicia gets her hopes up as the air begins to clear between her and Ethan. At the end of their shift, however, Ethan brushes Alicia off to see his current girlfriend Leigh-Anne. Alicia hides her disappointment and heads to the pub with the junior doctors. After one too many, things get very flirty with confident new doc on the block, Eddie, but a terrible ordeal lies ahead for Alicia…
Also this week nurse Louise Tyler challenges the parking fine she received while treating a patient and she's taking no prisoners! Bea returns to work but is uncomfortable, especially around Ethan – until he initiates a challenge. Will it help Bea bounce back? David uses his personal experience to support a grieving mother and daughter. And could Iain be jealous of Sam's budding friendship with Jacob?
Get the latest updates, reviews and unmissable series to watch and more!
Thank you for signing up to Whattowatch. You will receive a verification email shortly.
There was a problem. Please refresh the page and try again.