Casualty spoilers: Duffy in crisis and Archie rumbled?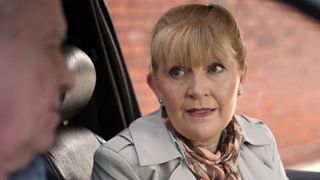 (Image credit: BBC)
Duffy suffers a distressing new development, and Archie has some questions to answer…
In Casualty this Saturday (9.30pm, see our TV Guide for full listings) Duffy and Charlie Fairhead are challenged further, Archie worries that the past is about to catch up with her, and EastEnders' Michelle Collins guest stars as a mysterious patient…
#Chuffy's new nightmare?
Duffy and husband Charlie Fairhead have been coping admirably with her dementia diagnosis, but this week they need extra love and support when Duffy finds herself unable to turn right while driving.
Former nurse Duffy Fairhead is left distressed and sobbing by this new development. Concerned, Charlie races to his wife's side to comfort Duffy before admitting her to ED for checks.
Their friends rally round, as tests confirm the couple's fears. Can Duffy's nearest and dearest provide her with an unexpected lifeline?
Archie's past comes back to haunt her!
Elsewhere Will Noble clocks that fellow doctor Archie Hudson begins acting twitchy when receptionist Noel Garcia (Tony Marshall) innocently mentions that former patient, Vincent Millbank, has requested CCTV footage of the night his car was vandalised on hospital grounds.
Regular viewers will remember that Archie has something to hide…
MORE: How far will Archie go to right a wrong between patients?
Realising Archie's career could be at risk, Will offers to help her out. But will his charming plan backfire?
Duffy to the rescue in this week's haunting Casualty guest storyline?
Casualty's guest storylines have us on a cliff-edge this week!
Firstly, father and daughter Daryl and Jessie are admitted to the ED after an attempt at a selfie by the seaside goes wrong.
The incident leads Daryl (Rupert Hill) to experience disturbing flashbacks. Later, when warm-hearted nurse Robyn Miller performs an act of kindness for Jessie (Adrianna Bertola) she discovers a secret that leaves her reeling…
Elsewhere, Will (Jack Nolan) finds it difficult to treat mysterious patient Lorna (former EastEnders star Michelle Collins).
The shocking story begins with Lorna sitting outside the hospital in her car, nervously clutching a kitchen knife. Soon afterwards Lorna intentionally slams the car door on her hand and admits herself to the ED for treatment.
Consultant Will Noble begins to suspect Lorna's her lying about the severity of her injuries, but it's Duffy who twigs her true identity and why she's in the ED. Soon everyone's on a knife edge as Duffy tries to stop tragic Lorna doing something drastic…
Also in Casualty this week
Ethan gets several warnings that his relationship with Effie is frowned upon.
First acting clinical lead Dylan Keogh gives Ethan a dressing down, when he attempts to bunk off work to spend time with Effie.
And later, Effie's dad – also Ethan's uni friend – Theo has some stern words for the smitten doctor.
Unsung Casualty star of the week: Gabriella Leon as junior nurse Jade Lovall.
Find out why when Casualty airs on BBC1 this Saturday at 9.30pm.
Get the latest updates, reviews and unmissable series to watch and more!
Thank you for signing up to Whattowatch. You will receive a verification email shortly.
There was a problem. Please refresh the page and try again.