Casualty spoilers: Duffy's secret illness - she won't tell Charlie!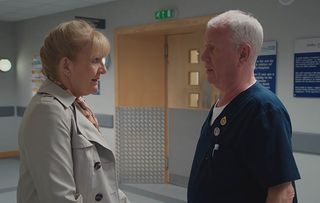 (Image credit: BBC)
REVEALED: Duffy gets diagnosed. Iain and Ruby's feud takes a deadly turn. Rash is stunned by a blast from the past!
Keeping secrets and not spending time together usually spells trouble in a marriage. And, at the moment, Charlie and Duffy Fairhead are guilty on both counts!
Since Charlie accepted the position of senior nurse manger the newlyweds have barely seen each. This week Duffy, who's been suffering in silence as she tries to support Charlie's career, pays a visit to her GP, who diagnosis her with anxiety and depression, and prescribes antidepressants. Something she decides not to share with her hubby…
Back at the hospital, however, vulnerable Duffy ends up confiding in her childhood sweetheart, widower Bill! His troubled daughter Rachel is having treatment in the ED, and he sees distressed Duffy having a panic attack. This isn't the first time Bill (The Bill's Clive Wood) and Duffy have had a heart-to-heart. A few months ago they slipped off for a drink after Duffy's granddaughter's party! The same party Charlie didn't attend because he needed to tidy his office…
Could Charlie and Duffy's relationship be on the rocks? Is Duffy okay? And is Bill all he seems? Read our interview with Cathy Shipton for more reveals!
Elsewhere, paramedic boss Jan Jenning (Di Botcher) continues to pair Iain and Ruby together in the hope the atmosphere will thaw. Unfortunately her cunning plan isn't working. Worse than that, with Iain indifferent to Ruby's inexperience, he keeps allowing her to make blinkered by-the-book decisions.
This week Ruby's decision to prioritise the treatment of a hoax caller over a pregnant woman results in a newborn baby fighting for its life. Ruby's shaken and reconsiders her career as a paramedic, while Iain's sobered by the harrowing experience…
Meanwhile, doctor Alicia Munroe has decided on two new housemates to share her flat (and the mortgage costs!) Ruby's delighted to be moving in with Alicia, but who's going to tell porter Gem that new medic Jamila has offered twice the rent for her place at Alicia's abode?
Also this week, nurse Louise Tyler is uncharacteristically flustered before her interview for the Band 6 nursing position. Will nerves get the better of Louise during the interview?
Junior doctor Rash Masum is surprised to see childhood friend Jamila Vani (Press star Sujaya Dasgupta) working as an anaesthetist in the hospital.
Jamila's haughty manner fails to win her friends, especially with Rash's girlfriend Gem! Will Jamila cause trouble for the couple?
How will Jan react when she discovers Iain and Ruby's frosty feud has put a newborn baby in danger? Alicia regrets agreeing to rent a room to Jamila instead of Gem. And Duffy finds herself in a dilemma…
Read our interview with Cathy Shipton, who plays Duffy, in What's on TV for more. On sale Tuesday 25 September
Get the latest updates, reviews and unmissable series to watch and more!
Thank you for signing up to Whattowatch. You will receive a verification email shortly.
There was a problem. Please refresh the page and try again.