Casualty spoilers: Grieving Iain's arrest revealed IN DETAIL!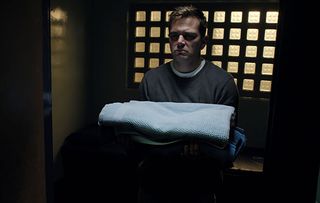 (Image credit: BBC)
In this week's Casualty paramedic Iain is banged up, Jade is attacked, and Duffy's dementia fears worsen
Iain despairs in jail
The shocks come thick and fast for paramedic Iain Dean, who's in a state of disbelief in the immediate aftermath of last week's tragedy. Iain's friend Base (Max Parker) lies dead from a heroin overdose.
Meanwhile drug dealer Ross (Chris Gordon) is unconscious after Iain punched him for dealing the deadly dose to Base. As Iain's treating Ross, his paramedic boss Jan Jenning turns up and demands to know why her son is lying in a pool of blood!
Shaken by events, Jan doesn't want to hear the truth about her son, and later in the ED Ross paints a dark picture of Iain as violent and volatile. So when Iain angrily accuses Ross of killing Base, Jan (Di Botcher) snaps and reports him to the police! She even gets him removed from the ED by security!
At the police station Iain protests his innocence, but with no evidence against Ross the situation is bleak. The troubled paramedic, secretly suffering from Post Traumatic Stress Disorder since the death of colleague Sam Nicholls last year, sinks into hopelessness…
Duffy forgets Charlie's birthday
Overlooking someone's birthday can happen to anyone. But experienced ED nurse Duffy is devastated when she realises she's forgotten her estranged husband's birthday. Duffy, who fears she's developing dementia, is unable to hide her shock from junior colleague Jade. Sadly, there's a more worrying memory lapse in store Duffy this week, which leaves her distressed and fearing the worst. Will she turn to hubby Charlie, even though they're no longer together?
Jade assaulted at work
Junior nurse Jade Lovell's faith in her profession is shaken this week when she's viciously bitten by a difficult patient. Feeling like a failure, Jade reconsiders her career as a nurse, until senior nurse Louise Tyler decides to take matters into her own hands. With a protective Louise at the helm, will Jade feel safe enough to stay at Holby ED?
Ethan makes a big decision about his future
Pining for doctor Alicia Munroe, this week heartbroken doctor Ethan Hardy decides to go for a cross-country run after his ex girlfriend once again doesn't answer his calls. While out running, Ethan comes to the rescue of a vulnerable, injured patient, who makes him think about his future. What will he decide?
Also this week…
Jan is grateful when doctor Elle Gardner and nurse Charlie Fairhead end up treating her son Ross. Can Charlie use his own experiences of having a drug addict son to help Jan cope with events as they unfold?
Will Louise decide to press charges against a violent patient?
And with Jan's son in the ED viewers learn more about the paramedic's past and present!
Get the latest updates, reviews and unmissable series to watch and more!
Thank you for signing up to Whattowatch. You will receive a verification email shortly.
There was a problem. Please refresh the page and try again.