Chummy goes into labour...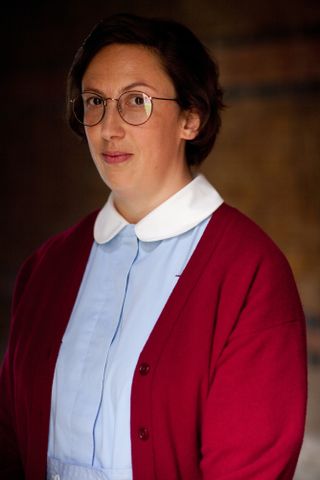 (Image credit: BBC/Neal Street Productions/Laurence Cendrowicz)
Chummy is excited and nervous about the impending arrival of her baby. Everyone at Nonnatus House is preparing for the little one's arrival, and Cynthia has even donated her old baby clothes to the mother-to-be.
Meanwhile, Sister Bernadette has written from the sanatorium. She has recovered from TB and is to be discharged the following week. However, she's having big doubts about the path she has chosen in life, and is considering a different future. Dr. Turner is glad to hear of her change of heart. Sister Bernadette renounces her vows and is no longer a nun. Immediately, Dr. Turner asks her to marry him and she says yes.
Then, Jimmy makes a return to the house - much to Jenny's surprise. He brings news that his new daughter is doing well, and that he's fully recovered from the illness that nearly killed him. He also brings his friend, Alec, to meet Jenny. He thinks she's wonderful, but Jenny isn't sure of him. But at a jazz club Jenny decides to dance with Alec, who she begins to take a shine to, while Jimmy looks on.
Then, Chummy goes into labour. Everyone's thrilled, but Cynthia and Jenny are horrified to pull back Chummy's bedsheets and find a large pool of blood. They suspect that she's haemorrhaged and needs urgent medical attention if they're to save both her life, and that of her unborn baby. Luckily, Chummy reaches hospital in time, and both mother and baby make a full recovery.
Get the What to Watch Newsletter
The latest updates, reviews and unmissable series to watch and more!