Connie's killer instinct kicks in!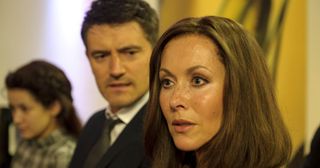 (Image credit: BBC / Alistair Heap)
Connie drives sworn enemy, Steph, to her death then refuses to save her...
The air sizzles with hatred when Connie pays a prison visit to Steph Sims, the woman who intentionally drove Connie and daughter Grace off a ravine road, nearly killing them.
Connie's on a mission to save her still recovering daughter, Grace, the trauma of a trial. But with remorseless Steph insisting the crash was an accident - even blaming Connie (Amanda Mealing) for causing it - the furious doctor swears revenge. She's going to do everything in her power to stop Steph seeing her own daughter, Carmel, again.
When distraught Steph is later brought into the ED after overdosing, Connie's as good as her word. First she refuses to help treat Steph, then she manipulates Carmel's dad, Phil, into telling Steph she'll never see their daughter again! Unconvinced Steph's suicide attempt is sincere Connie also cruelly goads desperate Steph every chance she gets…
Later, Connie gives nurse Louise a break from tending Steph (Emmerdale's Tonicha Lawrence). When Louise leaves, Steph suddenly starts to choke on her own vomit, and callous Connie does nothing to help her!
Connie is prepared to let Steph die, but Charlie rushes in and saves her life! Afterwards, confronted by Charlie, Connie tries to lie her way out of trouble, but he doesn't believe a word. Will Charlie report Connie's killer conduct?
Also this week, Iain catches his little sister, Gem, stealing from him as she prepares to run away. He gives her a second chance and helps her find a job. Although it's not an easy task with Gem's quick temper and criminal record. She's hiding another secret from her brother too…
Connie's daughter Grace is still mute, leading her father Sam to suspect it's psychological. As Grace's mental health continues to decline, she makes it clear to Connie she blames her mother for everything that's happened since Steph nearly killed them both.
For more, see killer Connie Beauchamp in incriminating pictures
Get the latest updates, reviews and unmissable series to watch and more!
Thank you for signing up to Whattowatch. You will receive a verification email shortly.
There was a problem. Please refresh the page and try again.