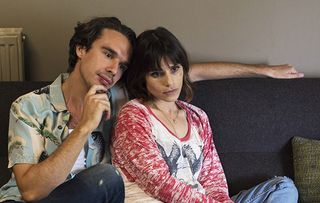 (Image credit: ITV)
Dark Heart's Staffe investigates the mysterious death of a young nurse on the London Underground, which leads him and the team straight into the dark underbelly of the city
Trouble brews at home for Staffe as he wrestles with a case.
When a young nurse dies on a platform on the London Underground, DI Will 'Staffe' Wagstaffe (Tom Riley) is stumped as to how and why she has met her end, but an autopsy offers up a surprise.
As the woman's recent behaviour comes under scrutiny and a link emerges with a long-missing boy and also a surgeon Nick (Memet Ali Alabora) – look out for Claire Goose as the doctor's distressed wife – the case takes an even more sinister turn…
However, the browbeaten Staffe also has troubling family matters to distract him from the macabre case as his nephew
Harry gives cause for concern, which leads to another altercation between Staffe and his sister Juliette's seriously dodgy fiancé, Paulo (pictured top with Juliette).
Continues tomorrow.
Here, in an exclusive interview, Claire, 43, tells TV Times how she sees her role, her career and TV in general…
What can you tell us about Phoebe? She knows Nick is lying about something and events unravel. After the police turn up, she ends up in deep shock about what has been going on. When I read it, I didn't really know which way it was going to go, but it's not light-hearted, it's dark – because it's Dark Heart!
Why did the show appeal to you? Tom's brilliant and I worked with the writer Chris Lang before on [ITV dramas] Unforgotten and Undeniable and his writing's so moving and real. I love the set up of Dark Heart too, because other shows now tend to be one story over six episodes, but this is more like Waking the Dead was, where each story is like a film and you can watch two episodes back-to-back instead of trying to binge watch.
You've played several criminal investigators yourself. Was it strange being a suspect? It was funny to be on the other side. You ask fewer questions – you just give the answers! But it was such a fun job and the sort of thing I love to watch.
The full interview is available in this week's TV Times on sale 30 October.
TV Times rating: ****
Get the latest updates, reviews and unmissable series to watch and more!
Thank you for signing up to Whattowatch. You will receive a verification email shortly.
There was a problem. Please refresh the page and try again.