Dinner for Schmucks - 5Star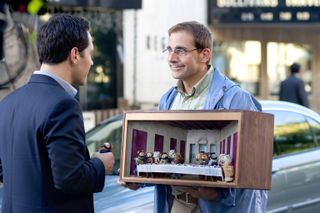 (Image credit: Photography by: Merie Weismiller Wallace SMPSP)
Paul Rudd and Steve Carell shine brightly in a sharp-toothed comedy. 3/5 stars
Don't miss the surreal opening credits for this comedy, as they set the tone for the mayhem to come brilliantly.
Rudd plays Tim - a mid-level corporate executive who gets a chance for promotion when his boss invites him to an exclusive dinner party.
The mean-minded catch is that he must bring someone with a 'special talent' for the other guests to ridicule. He's not really sold on the idea (because he's a nice guy), but when he runs into creative taxidermist Barry (Steve Carell), he cannot help thinking he's found the ideal candidate.
Then, of course, Barry proceeds to turn Tim's life upside-down.
An American remake of the French movie Le Diner de cons, this is quite absurd, totally over the top and very silly, rising above its rather nasty premise.
David Walliams has a small role as a Swiss businessman and Zach Galifianakis, Lucy Punch, Bruce Greenwood, Chris O'Dowd and Jemaine Clement are among the other familiar faces.
Get the latest updates, reviews and unmissable series to watch and more!
Thank you for signing up to Whattowatch. You will receive a verification email shortly.
There was a problem. Please refresh the page and try again.