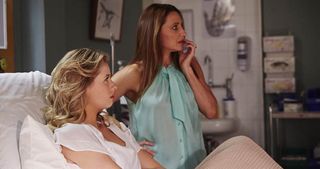 (Image credit: Jeremy Greive)
Maddy comes out of surgery to learn that she's had one of her ovaries removed. Nate tells Maddy and Roo that he's concerned about a mass growing on her other ovary. Meanwhile, Spencer is upset to learn that Maddy is sick and he vows to stand by her. Nate receives Maddy's results and breaks the news that she has cancer.
Ricky is relieved to have Brax home, but becomes suspicious when she overhears Ash telling Brax he doesn't want to keep 'the money'. Later, Ricky confronts Ash and he admits it came from the robbery. However, Ricky is left stunned when she finds out Brax operated alone to get Ash's money back.
Phoebe tries to cut her ties with Neive; however, she gets a nasty surprise when she reads her contract. Phoebe is legally bound to Neive and can only get out of her contract if Neive agrees. Phoebe calculates that she owes Neive $35,000 in artist development costs and is ecstatic when Ash offers her the money.
Get the latest updates, reviews and unmissable series to watch and more!
Thank you for signing up to Whattowatch. You will receive a verification email shortly.
There was a problem. Please refresh the page and try again.