Dom is back at work and straight into trauma!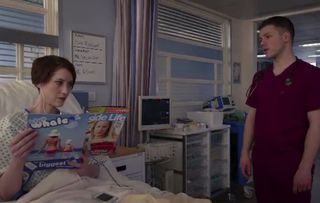 But has Isaac's abuse had a lasting impact on the medic?
Following the traumatic end to his relationship with Isaac, Dr Dominic Copeland wants to throw himself back into his work. But, this week, a patient brings all his insecurities to the surface. As Dom tries to prove to Sacha that he's recovered both emotionally and physically from Isaac's torment, he locks horns with patient Lisa, who has a history of abusing the NHS for free cosmetic surgery.
Sacha and Dom performed a tummy tuck on Lisa six months ago, and Dom thinks she's faking her stomach pains to bag herself a repeat operation – and tells her as much! As Dom apologises, Lisa confides in him that she keeps having all these surgeries in the hope that people will be treat her differently.
Sacha and Dom perform a further tummy tuck, but when they find a surgical ruler inside Lisa, seemingly from the original op, she threatens to sue! Dom fears that, without his job, he'll struggle to get over Isaac's abuse. Seeing what lengths Lisa will go to in order to feel good about herself, will Dom take drastic action to boost his own self-esteem?
Meanwhile, Matteo's shocked when an old friend, Luke, turns up on Darwin for treatment… and he's quickly followed by Matteo's wife, Nina! Fearing the new life he's created for himself at Holby will be threatened, Matteo wants Luke transferred to St James's Hospital. But will he decide to do the right thing and save Luke's life before the painful truth about his marriage is revealed?
Also, with Bernie keen to bring her son, Camero, back to Holby permanently, he and Morven fight against their feelings for one another. Cameron, however, isn't completely sure medicine is for him and wants to go travelling. Will Morven follow Jasmine's advice to take a chance on love before Cameron leaves the country?
Get the latest updates, reviews and unmissable series to watch and more!
Thank you for signing up to Whattowatch. You will receive a verification email shortly.
There was a problem. Please refresh the page and try again.