Drunk Laurel hits a new low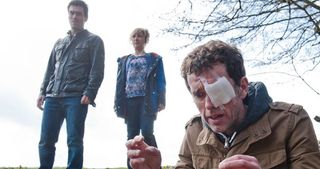 *Second episode*
Clutching the cash Cain's given her, Laurel rushes out of the house inadvertently allowing Daisy the dog to get outside. Having bought some wine, she heads home, necks it and then leaves again, taking Marlon's car keys. Cain, meanwhile, is on his way home with Marlon, who's had surgery on his eye and is wearing a patch. He's devastated to hear Laurel didn't go to her meeting – but nothing prepares Marlon for the sight that greets the cousins as they enter the village. Drunken Laurel has not only crashed Marlon's car into a stream, she's run over and killed Daisy – and is trying to bury her…
In the bar, Emma is furious. The chemistry between Chas and James is sizzling. As Emma leaves the bar, a group of lads accidentally knock her over. She's fine – but the incident gives her an idea. Roughing herself up, she then heads back inside and tells James she's been mugged!
Having lost the Mill Cottage job, Tracy is hoping to get her position back at the B&B – and her room. But will Val go for it?
Get the latest updates, reviews and unmissable series to watch and more!
Thank you for signing up to Whattowatch. You will receive a verification email shortly.
There was a problem. Please refresh the page and try again.