The ED staff are tested to their limits in Casualty one-shot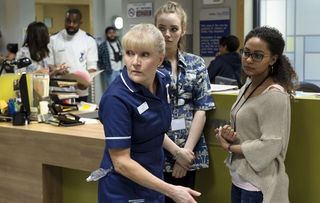 (Image credit: BBC/Adrian Heap)
How will the staff of Holby ED cope in this special Casualty episode filmed in one continuous take?
It's the long awaited one-shot episode of Casualty and we think fans will be impressed. In fact, even if you've not watched Casualty since the 1980s, this makes for exhilarating TV…
Filmed in one continuous take, the final episode of the current series of Casualty is called One and it follows an ensemble of Casualty characters as they deal with a typical day in the ED.
The shift starts explosively when paramedics Jez and Iain attend a terrifying house fire. Later at Holby ED the medical team deal with the fall-out of what turns out to be an arson attack, in which a baby is still unaccounted for. From consoling a stricken mother and a furious father, to putting aside personal feelings to treat the suspected arsonists the entire ED team have their work cut out for them.
With receptionist Noel off sick, nurse Louise (Azuka Oforka) desperately tries to manage the in-flow of patients to the ED, but the behaviour of some in the waiting room pushes her into unprofessional territory.
Meanwhile, nurse Duffy (Cathy Shipton) has to contend with two work experience students – one of whom is determined to stir up trouble on the ED. And doctor Ethan Hardy is clearly distracted – we can't imagine why that is…
Get the latest updates, reviews and unmissable series to watch and more!
Thank you for signing up to Whattowatch. You will receive a verification email shortly.
There was a problem. Please refresh the page and try again.