Emmerdale spoilers! Gotcha! Graham Foster confronts Nicola King about the scam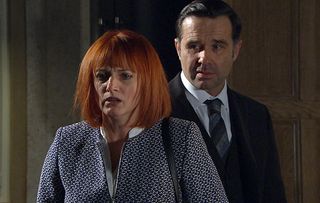 Nicola King learns boss Graham Foster has found out she's been fleecing the Tate Empire
At Home Farm, PA Nicola King (Nicola Wheeler) is thrown into panic when her boss Graham Foster (Andrew Scarborough) casually asks to see the plans for the new housing development. There is no 'development', of course.
It's a scam Robert Sugden (Ryan Hawley) has dreamed up to fleece the Tate Empire, and Nicola – who's on the inside – has been helping him siphon off the cash.
What Nicola doesn't yet realise is that now sober Graham, who sloppily signed off on the fake development during an alcoholic relapse, has sussed the scheme! As he secretly tails Nicola, Graham's suspicious eyebrows raise when he clocks her having a furtive chat with Robert.
With that, he works out Robert's involved, and he sets about carving out his revenge… Later, Nicola pales when steely, scary Graham reveals he knows what's been going on.
Trouble continues at for the Spencers when Dan (Liam Fox) tells Amelia she can leave with Daz. Kerry (Laura Norton) is utterly dumbfounded by his decision to let his daughter go and explodes at her partner. Though Dan explains he's using reverse psychology on teenager Amelia, Kerry is not on board.
At the factory, Dawn (Olivia Bromley) is stunned when Rishi offers her a job.
Get the latest updates, reviews and unmissable series to watch and more!
Thank you for signing up to Whattowatch. You will receive a verification email shortly.
There was a problem. Please refresh the page and try again.