Will Ethan be fired because of Alicia?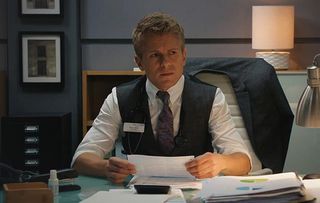 (Image credit: BBC)
Ethan is ordered to find out who is writing Rage in Resus. If not, he's going to be sacked!
More pressure is piled on doctor Ethan Hardy this week when his boss, Darwin clinical lead Jac Naylor, elbows her way onto the ED, publicly berates him, and then unleashes an ultimatum from their big boss.
Hospital CEO Serena Campbell has ordered that either anonymous blog Rage in Resus is down by the end of the day, or else Ethan's out on his ear!
Shaken Ethan lets everyone working in the ED know that the secret blogger could be sacked. Desperate, Ethan even asks former lover, doctor Alicia Munroe, if she's responsible for Rage in Resus. Alicia, who actually is the blogger, angrily denies writing the posts and turns on Ethan for accusing her!
Will Ethan be sacked if he fails to uncover the truth?
Elsewhere, Rash tries to face his fears when he's placed in Resus. Will he step up or throw up?
Also this week, David gets uncharacteristically lippy with the mother of a vulnerable child patient. While paramedic Sam does some doctoring to save a gymnast's foot. Will she get the boot for taking a risk outside of her duties?
Meanwhile, Charlie suspects he knows who's behind Rage in Resus. Will he confront Alicia before one of her colleagues ends up taking the blame?
Get the latest updates, reviews and unmissable series to watch and more!
Thank you for signing up to Whattowatch. You will receive a verification email shortly.
There was a problem. Please refresh the page and try again.