First Man – Sky Cinema Premiere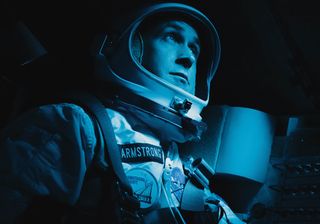 (Image credit: © 2018 Universal City Studios P)
An exhilarating biopic of Neil Armstrong, the first man on the Moon. 4/5stars
Damien Chazelle and Ryan Gosling, director and star of the joyously uplifting musical La La Land, reunite for another movie to send us soaring – an exhilarating biopic of the first man on the moon, Neil Armstrong.
From the off, their film puts us inside Armstrong's shoes and inside the series of strikingly fragile craft he pilots as 1960s America races to fulfil its lofty space ambitions. 'Neil, you're bouncing off the atmosphere,' cries an anxious flight controller as test flier Armstrong struggles to bring his rattling, juddering X-15 aircraft back to earth in the film's opening scene. It's a terrifying, white-knuckle ride. But Armstrong keeps calm and carries on, bending his engineer's brain to the risks and problems as the US space programme gathers pace, and remaining stoical as he weathers tragedies at home and at work.
Down on the ground, his anxious wife Janet (a superb Claire Foy) strives to maintain a stiff upper lip, but her fears and exasperation sometimes break through. 'You're just a bunch of boys making models out of balsa wood,' she exclaims, and the Apollo rockets themselves appear to be almost as flimsy.
What the movie does brilliantly is bring home just how perilous the lunar mission was. And how relatively primitive was the technology behind it. A modern smartphone is much faster and more powerful than all NASA's computers put together in 1969. Watching, we feel that Armstrong and his fellow Apollo 11 astronauts Buzz Aldrin (played as an abrasive smart alec by Corey Stoll) and Michael Collins (Lucas Haas) really are sitting in a tin can. But when Armstrong does make those fateful first steps on the moon, on 21 July 1969, the film leaves us with a sense of strangeness and mystery as well as awe.
Get the latest updates, reviews and unmissable series to watch and more!
Thank you for signing up to Whattowatch. You will receive a verification email shortly.
There was a problem. Please refresh the page and try again.