Further Back in Time for Dinner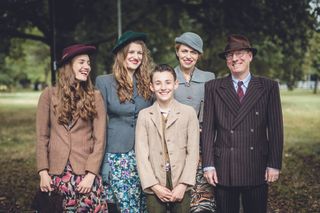 (Image credit: BBC/Wall to Wall/Duncan Stingemo)
Austerity and rationing as the Robshaws dish up their last supper as they go Further Back in Time for Dinner
Austerity and rationing as the Robshaws dish up their last supper as they go Further Back in Time for Dinner
It's the end of the Robshaw family's latest foray into time travel, and they're spending this week in the 1940s. With the decade dominated by World War Two, luxury has been replaced by austerity.
Rationing is hitting hard, with cookbooks like What's Left in the Larder? and They Can't Ration These (a guide to 'nature's larder') on hand to make the best of the situation.
The family experience life in an air raid shelter, the girls go dancing with GIs and everyone's thrilled when Giles brings some 'black market' items for the table.
Another entertaining and thought-provoking episode to round off this enjoyable series.
Get the latest updates, reviews and unmissable series to watch and more!
Thank you for signing up to Whattowatch. You will receive a verification email shortly.
There was a problem. Please refresh the page and try again.