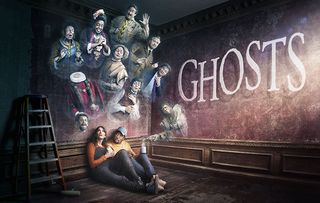 (Image credit: BBC)
Former Call the Midwife star Charlotte Ritchie on things that go bump in the night in her very silly but very spooky new BBC1 sitcom Ghosts
Former Call the Midwife star Charlotte Ritchie on things that go bump in the night in her very silly but very spooky new BBC1 sitcom Ghosts
Sadly, for fans of Call the Midwife, there's no chance of much-loved nurse Barbara Hereward returning from the dead following her heartbreaking demise in the seventh series of the hit show.
But for Charlotte Ritchie, who played the newlywed midwife, her latest TV role means being surrounded by dead people!
In BBC1's new comedy series Ghosts, written by and starring the team behind the award-winning shows Horrible Histories and Yonderland, Charlotte plays Alison, who unexpectedly inherits a crumbling stately home called Button House from a distant relative.
Alison and her husband, Mike (Kiell Smith-Bynoe), immediately decide to do the place up and run it as a hotel.
But what they don't realise is that Button House is already occupied by the spirits of some of the people who've died there over the centuries and who don't want anyone else in their ancestral home.
While trying to scare Mike and Alison into leaving, one of the ghosts unintentionally shoves Alison out of a window and she technically dies for a few minutes.
This near-death experience means Alison is now able to see the ghostly and very annoying occupants, which shocks them as much as it shocks her!
Here, in an exclusive interview with TV Times, Charlotte, 29, tells us all about her ghostly adventure…
How do Alison and her husband feel about inheriting this run-down country pile?
Until they get there, they have no idea what's in store.
They just think, 'Cool, we'll paint it, put some cheap beds in and we'll have a hotel.'
They are really ambitious but also quite naive.
Once Alison can see them, what's her attitude towards the ghosts?
I love how quickly the spirits become annoying as opposed to scary.
They are very bad at haunting anyway and once the initial shock is out of the way, they are just real pains.
They are always under her feet and they're always asking Alison for things.
But she becomes quite fond of them in the end.
Did you have any ghostly experiences while filming?
No, I didn't.
There were so many pretend ghosts bustling around, there was no room for real ghosts!
Some of the rooms in the house [medieval manor house West Horsley Place in Surrey] did have quite weird energies, but I didn't see or hear any ghosts or anything like that.
And I never have.
When we filmed Call the Midwife, I thought that house was haunted but had no proof.
Showing in Northern Ireland at 11.35pm.
TV Times rating: ****
Get the latest updates, reviews and unmissable series to watch and more!
Thank you for signing up to Whattowatch. You will receive a verification email shortly.
There was a problem. Please refresh the page and try again.