Hairy Bikers: Route 66 – BBC2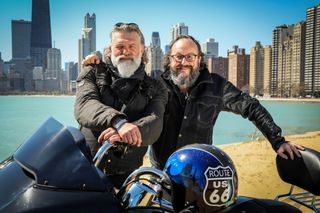 (Image credit: BBC/Twofour)
Hairy Bikers Si King and Dave Myers on their incredible trip along America's most iconic road in BBC2's Hairy Bikers: Route 66
It was only a matter of time before BBC2 made Hairy Bikers: Route 66 – let's not forget the 'Bikers' bit in Si King and Dave Myers' moniker and the fact that this is one of the iconic road trips.
Over six episodes, they're off on an adventure from Chicago to California, soaking up the culture and history as well as local dishes.
It's been a long-held ambition to do this trip and Si and Dave are overjoyed to be here – their glee levels at being able to do the job they love are rivalled only by Rick Stein's.
As they ride through Chicago and take in the skyscrapers, here's a typical exchange: 'Al Capone used to have an indoor golf range up there.'
'Did he?
'What did he use for golf balls?
'I dread to think…'
TV Times caught up with Dave, who turns 62 on 8 September, and Si, 52, to hear about their adventure…
Si, why did you want to make Hairy Bikers: Route 66?
It's one of those iconic trips, and also the most important road in modern American history.
Dave, what were the best and worst aspects of your epic journey?
The best was meeting the communities that exist around Route 66.
We were adopted by the Navajo nation, who killed a sheep and barbecued it for us!
The worst was riding through the Mojave Desert in 50°C heat.
We associate American cuisine with fast food.
Is there more to it?
Dave: There are a lot of burgers and my waistline suffered as a result!
But with Route 66 being the migrant route, there is a food culture born of immigration, from the Vietnamese to the Bosnians.
Where would you like to go next?
Dave: I'd love to motorcycle across Russia.
I think you can go all the way across to Korea and China.
Si: And I'd like to do all of the 'stans' in central Asia.
I was looking at a map and there are a lot of them!
TV Times rating: ****
Get the What to Watch Newsletter
The latest updates, reviews and unmissable series to watch and more!