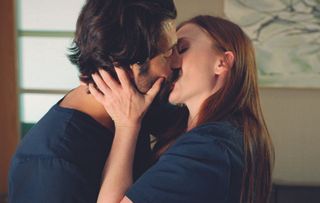 (Image credit: BBC)
Gambler Arty is back on the wards after having a fall at home in this weeks Holby
Gambler Arty is back on the wards after having a fall at home. As Fletch treats his injuries he can't help but notice what a tight grip Arty is keeping on a black holdall – a very large black holdall.
After a little persuasion Arty reveals he got lucky at the casino and the bag is stuffed full of money. Fletch is flabbergasted and even more determined to get the old fella back on his feet.
Sacha has a bad day when he realises that Essie is seeing Raf, and Matteo takes a gamble to try and win Jac's heart, icicles and all.
Thank you for signing up to Whattowatch. You will receive a verification email shortly.
There was a problem. Please refresh the page and try again.