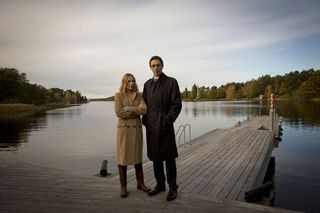 (Image credit: BBC/Patricia Castellanos)
After seemingly disappearing from Holby without a trace months ago, Hanssen's whereabouts are revealed this week in a special episode filmed in Sweden. When Serena Campbell learns Hanssen's in his native Stockholm, where he's trying to block a £40 million cash injection for Holby from Swedish pharmaceutical firm, Scandicor, she orders Jac to find him - and find out why. In Stockholm, Hanssen meets Scandicor chairman, Nils Johannssen, who agrees to withdraw the offer if he visits Anders Lovborg – the company's owner and the father Hanssen hasn't seen for 36 years. Dying Anders wants to leave Hanssen his business but he rejects him. Anders disappeared in disgrace in the 70s when it was discovered he'd built his company on Nazi medical research and, disgusted, Hanssen cut him off. Hanssen's always believed his father's actions led his Jewish mother to kill herself. Anders' cardiologist Maja says Hanssen's in no place to judge – he left her pregnant with the now 25-year-old Frederick. Meanwhile, Jac's found out more about Anders and urges Hanssen to accept the money for Holby. Later, Hanssen apologises to Maja for abandoning her and, to get Hanssen to come to Anders' deathbed, Maja tells Hanssen the truth about events surrounding his mother's death. Can Hanssen right the wrongs of his past before it's too late? Also, Luc is haunted by events from the past and, despite Michael and Sacha's best efforts, he seems to be heading off the rails. Will he be able to face his fears and get back on track?
Get the latest updates, reviews and unmissable series to watch and more!
Thank you for signing up to Whattowatch. You will receive a verification email shortly.
There was a problem. Please refresh the page and try again.