Hollow Man - Paramount Network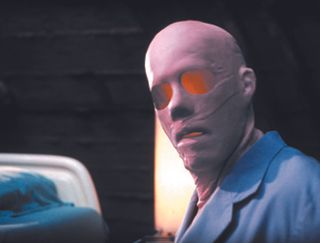 There are shocks and thrills galore when Kevin Bacon becomes the invisible man. 4/5 stars
Bacon and his fellow scientists (among them Elisabeth Shue and Josh Brolin) have been working on a top-secret government experiment to perfect an invisibility formula.
Their ape test subjects have responded well, but Bacon holds back from telling his superiors the good news - because deep in his high-security, impenetrable lab he's determined to be the first human guinea pig.
However, no-one has foreseen the dangerous consequences of Bacon's actions and he turns from an egotisitical but brilliant scientist into a nasty, bitter individual who thinks nothing of rape and murder (a scene in which he plays peeping and groping Tom with a neighbour is in dubious taste, to say the least).
Problem is, no-one can get him back to normal...
Bacon and Shue are able actors and give good performances here, but where Paul Verhoeven's film really scores is in its special effects. The transformation scenes, in which Bacon's bones and veins gradually appear and disappear, are amazing, and the sequences when he's revealed with steam, water and blood are extremely clever.
The climax is real edge-of-seat stuff, too, and there is also a good level of humour.
Get the latest updates, reviews and unmissable series to watch and more!
Thank you for signing up to Whattowatch. You will receive a verification email shortly.
There was a problem. Please refresh the page and try again.