The Interrogation of Tony Martin – C4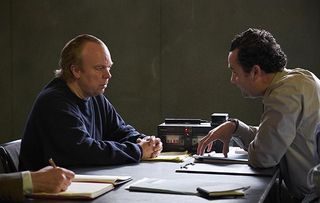 (Image credit: Laura Radford)
Steve Pemberton and Daniel Mays star in The Interrogation of Tony Martin, recreating the real case of the farmer who killed a teenage burglar at his home
Part drama, part documentary, this recounts the 1999 case of Norfolk farmer Tony Martin, who at his remote home – aptly named Bleak House – shot and killed a burglar, 16-year-old Fred Barras.
Steve Pemberton plays Martin, with Daniel Mays and Stuart Graham as the detectives interviewing him.
The drama is verbatim, so every word the actors speak is from the real police interviews.
The drama then turns documentary when the real Tony Martin returns to Bleak House for the first time since he shot Barras and reveals if he would do anything differently.
An interesting and revealing film about a controversial and divisive case.
TV Times rating: ****
Steve Pemberton talks to TV Times about playing Tony Martin…
How did you get the part?
Filmmaker Dave Nath saw me in an episode of Inside No. 9, where I wore this wig that made me look like Tony Martin – that's the short answer! I've known Dave for years, though, because we lived near each other and had kids at the same time.
What was it like speaking someone else's words?
It's been enormously challenging for me as an actor – it's outside of what I normally do. But I thought it was a really bold decision to just stay in the interrogation room. What's interesting for an interrogation is Tony does a lot of the talking. He's a storyteller – it's like he's down the pub telling his friends what happened.
Did you meet Tony Martin?
No. It just never entered my mind. When you've got the script and it's exactly his words there's no need, because this is a drama. Everything I'm saying in the script is what he said.
Do you think he meant to kill?
I didn't really – purposefully – want to have an opinion. When I told people what I was doing, most people had heard of it and went, 'Fair enough, good on him.' But that's knowing very little about the facts of the case.
Get the latest updates, reviews and unmissable series to watch and more!
Thank you for signing up to Whattowatch. You will receive a verification email shortly.
There was a problem. Please refresh the page and try again.