Is Ricky going into labour?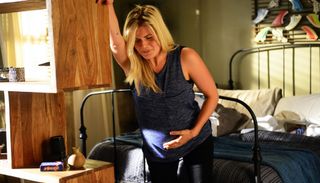 Denny is trying to distract Ricky by babbling about Ash, but Ricky isn't buying it, so Denny confesses the girls are organising a baby shower for her. After some gentle persuasion, Ricky plays along and is genuinely touched by the gesture. Later, at Angelo's, the baby shower is in full swing, when Ricky is reminded of Brax, so she tells her guests she's tired and heads home alone. The next day, Ricky is in a considerable amount of pain - is she going into labour?
Leah and Zac are at odds over her decision not to have surgery. Irene spots Leah, who breaks down about her test results. Irene says she should have the surgery, much to Leah's frustration. After thinking carefully, Leah tells Zac and VJ she won't have the procedure but still needs their support.
Also, Hannah tells the girls that her relationship with Andy is in a better place.
Get the latest updates, reviews and unmissable series to watch and more!
Thank you for signing up to Whattowatch. You will receive a verification email shortly.
There was a problem. Please refresh the page and try again.